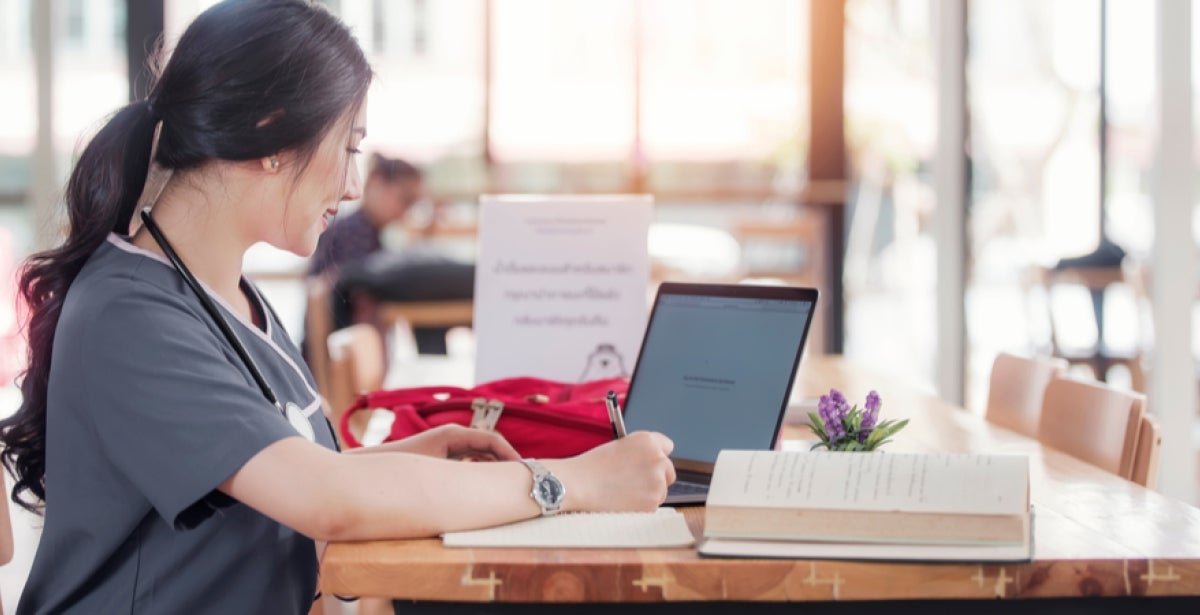 How Do Online Postgraduate Nursing Courses Work?
It's no secret that we have a scarcity of nurses in Australia. In fact, according to McKinsey, by 2025, between 20,000 and 40,000 nursing positions could be left unfilled. The global COVID-19 pandemic further exacerbated nursing shortages, with many nurses feeling burnt out and leaving or retiring early from the profession.
During the pandemic, countless nurses were redeployed as contact tracers, vaccinators and testing centre staff. This led to shortages, with hospitals battling to fill staff rosters for more traditional healthcare services. This contributed to deficiencies in aged care, mental health and critical care nursing.
Meanwhile, the World Health Organisation (WHO) is warning that nursing leadership and governance are critical to strengthening nursing workforces around the world. In their State of the World's Nursing report, WHO highlights that this is an opportunity for advanced nursing education to have a real impact in delivering improvements in population health.
As a registered nurse, you can prepare for the leadership roles of tomorrow with an online postgraduate nursing course that enables you to put new skills to use today. Let's take a closer look at how that works.
What postgraduate nursing courses are available?
If you're a registered nurse with a Bachelor of Nursing (or equivalent), then you may satisfy the entry requirements to pursue an online postgraduate nursing course. After a few years of work experience in the field, this can be the most efficient way to gain accreditation for your experience.
There are several different postgraduate options for those wanting to study nursing at this level. They include:
Graduate certificate in nursing
VU Online offers several postgrad online courses for registered nurses who want to upskill and take their careers to the next level.
The Graduate Certificate in Nursing is four units of study that can be completed in as little as eight months. In that time, you'll learn to apply evidence-based research in practice, while learning to improve quality outcomes for patients and improving care coordination with inter-professional teams.
Master of nursing
You also have the option of studying a Master of Nursing. With VU Online's Master of Nursing, you can choose to specialise in Nursing Leadership or Chronic Disease and Ageing. Whichever path you choose, this qualification will demonstrate your advanced practice skills and prepare you to play a valuable role in the transformation of the delivery of healthcare services in Australia.
Completion of any of these online postgraduate nursing courses will qualify registered nurses for the postgraduate qualification allowance.
Can I study nursing online?
Many postgraduate courses give you the option to study online, including the postgraduate nursing courses at VU.
Studying online allows you to extend your existing competencies while developing new capabilities in leadership, research and innovation. Whether you've got your eye on a promotion, another form of career development or you want to be ready for the future of nursing, you can give yourself the best chance of success with online study.
How does VU's online study work?
VU Online has re-imagined postgraduate study so that it complements nurses' already busy lives. Our innovative postgraduate online Block Model lets you focus on one unit at a time over a seven-week block.
We've broken the academic year into six blocks that are all seven weeks long. That means you can complete up to six units a year without having to split your attention between subjects.
So, if you choose to study the Graduate Certificate in Nursing, you can complete the course in as little as eight months, with four back-to-back blocks. The good news is there's a one-week break between each block, so you'll still get a chance to catch your breath.
Alternatively, you could complete your graduate certificate over a year and build in a couple of decent breaks to accommodate school holidays, work commitments or just to give your brain a break.
Our Master of Nursing consists of 12 blocks which can be completed part-time over two years. Of course, if you need more time, you have the flexibility to pause, shuffle and reorganise your blocks to suit your own needs.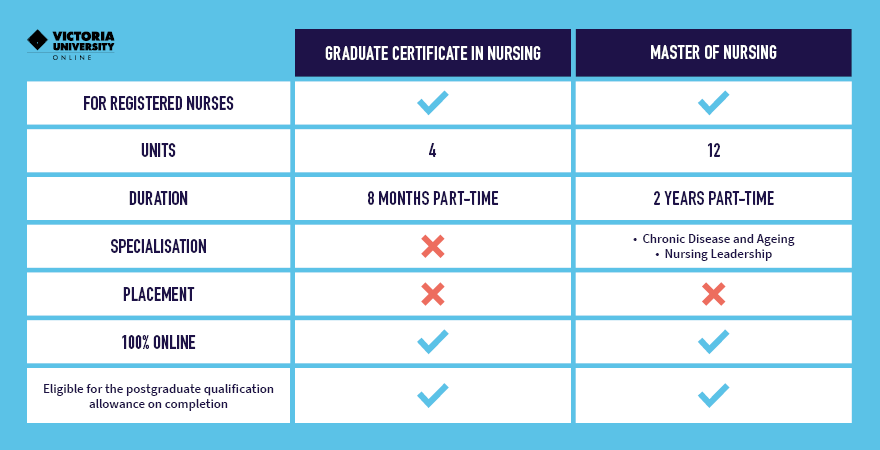 Can I study and work at the same time?
Yes, you can study and work at the same time. VU Online helps you maximise your effective nursing studies time with an online learning platform that's available anywhere, anytime and on any device. All you need is a web browser, so you can use a laptop, a tablet or even your phone.
You don't have to worry about textbooks, getting to campus for a tutorial or even exams. You'll be learning by doing, through case studies and real-life scenarios that are relevant to your work life.
So, you could view your postgraduate studies as another part of your daily work routine and check in before work, after work or whenever is most convenient and effective in your life.
All it takes is a little bit of planning. After all, nurse practitioners are good at managing time. To succeed, it's important to be organised, take time to get things right and be easy on yourself.
Do I need to complete placements when I study postgraduate nursing online?
No, you don't need to complete a placement when you study postgraduate nursing online. As you are a registered nurse, you are already working in the same environment that you would expect to find yourself in for a nursing practice placement.
The coursework in the Master of Nursing has been designed to complement and build on your daily professional practice. You can review and reflect on your current workplace and apply your newly developed skills immediately.
Is online study difficult?
A recent study of the work life of nurses found that busyness is a challenge that is made tolerable by the knowledge that you are part of a team.
Laila Govasli and Betty-Ann Solvoll stated, "Even when work has not been accomplished, it feels okay, because one knows that personnel on the next shift will be able to complete the tasks."
VU Online applies the same principle and surrounds you with a team to make sure your online study is seamless. In fact, from the moment you enrol right through to graduation, you'll have four layers of support.
Layer one is an Online Unit Facilitator who provides one-on-one academic support on the phone, in an email or via SMS seven days a week. The second support layer is an Online Unit Coordinator who runs fortnightly teaching seminars and is available Monday to Friday for office hours to answer your academic questions.
For non-academic enquiries, you'll have access to a Success Advisor by phone and email from Monday to Friday. The fourth layer of support is an entire network that includes IT, library, language, literacy and numeracy support, as well as counselling services.
Professor Chris Walsh, the Dean & Chief Academic Officer of VU Online, has worked hard to make online learning accessible for people with heavy work and life commitments.
"One of the things I really love about online learning is that there are no exams and there are no textbooks. Instead, there are immersive activities, rigorous discussions and debates and access to a wide variety of different kinds of educational resources," says Walsh.
Stephen Abblitt is an academic development manager at VU Online who helps create those immersive activities.
"Online learning should not be some pale imitation of traditional face-to-face teaching. We work really hard with our academics to re-imagine the online experience," says Abblitt.
"We look at breaking things down into bite-sized pieces and we look at ensuring that students can engage with materials at the right time and place when they want to be engaging with them."
Is the online nursing degree the same as an on-campus degree?
VU Online's Master of Nursing is the same quality as a full-time on-campus course and the qualification carries the same accreditation. The postgraduate nursing course prepares students to pursue a wide range of advanced nursing roles.
What jobs can I get with an online nursing degree?
Whether you specialise in chronic disease and ageing or nursing leadership, a Master of Nursing confirms your credentials for a variety of senior nursing jobs.
These can include:
Clinical nurse specialist
Clinical research nurse
Clinical nurse consultant
Clinical nurse educator
Nurse unit manager
Leadership role in chronic disease and ageing
Unit manager
Director of nursing
Executive director of nursing
In addition to these options, pursuing a different path altogether, for example, travel nursing, is also an option. Explore career outlooks for postgraduate nursing graduate here.
How postgraduate qualifications are important for nursing career success
Undertaking a postgraduate nursing qualification takes time, effort and commitment. It's normal to have questions and to want to learn more before you begin your journey. At the end of that journey, however, are numerous career opportunities.
Take the next step in your nursing career with VU Online. Contact our student enrolment advisors to learn more about how our Master of Nursing can help you achieve your goals.