Graduate Certificate in Mental Health Nursing
Entry requirements
Units of Study
Career outcomes
Support & Fees
Entry requirements
Completed an AQF Level 7 Bachelor of Nursing, or equivalent qualification AND;
Registration as a Registered Nurse (Division 1) OR Registered Midwife with the Australian Health Practitioner Regulation Agency (AHPRA) OR equivalent registration with the relevant registering authority for applicants outside of Australia AND;
Completed a minimum of one year of full-time clinical experience, or the part-time equivalent, as a registered nurse and have clinical support in a mental health specialty area OR provide written confirmation from their employer that they are employed in a mental health setting.
For more information about the units of study, download a brochure.
This degree is offered through VU Online's postgraduate Block Model, winner of the LearnX Live! Award 2021 'Best Online Learning Model'.
Instead of taking two or three units a semester, you will study one unit at a time in six study periods per year. This offers you more flexibility than traditional on-campus degrees and the opportunity to immerse yourself in your study.
At VU Online, we take a personalised 1:1 approach to online learning, which makes learning with us highly interactive and supported.
Recovery Oriented Mental Health (Unit Code HNO6010)
In this unit, students critically reflect on the lived experience of mental illness. The students' learning journey begins by examining past institutional abuse of people with mental illness and the continuing effects of stigma across social and diverse cultural contexts. Students analyse the evolution of the mental health consumer movement, focusing on consumer rights, autonomy, self-determination, collaborative decision-making, and strength-based models to support recovery from mental ill-health. Students also interrogate how to support consumers who have complex mental illness or who exhibit challenging behaviours, within a consumer-centred, recovery-oriented framework. Students will also debate the challenges that arise when balancing the diverse needs of consumers and carers in relation to confidentiality, privacy, and disclosure.
Biopsychosocial and Cultural Perspectives in Mental Health (Unit Code HNO6011)
This unit examines biopsychosocial and cultural perspectives of mental illness. This includes the links between serious mental illness, physical health conditions, complex comorbidities, and disability. Students will interrogate the correlation between lower levels of physical health, mental health, and socio-economic indices for people experiencing chronic physical conditions and mental ill-health. Students will also cross-examine the ethical dilemmas and cultural perspectives of mental ill-health for people with diverse experiences, backgrounds, and lifestyles. This includes Aboriginal and Torres Strait Islander communities, culturally and linguistically diverse groups, LGBTQIA+ peoples, veteran groups, and people from metropolitan, regional, rural, and remote communities across Australia. Students will also evaluate the value of care coordination and care planning approaches for people with complex health and sociocultural needs.
Effective Trauma-Informed Care (Unit Code HNO6012)
In this unit, students examine the experiences of trauma among people from diverse populations, cultures, and age groups and its impact across the lifespan. Students will analyse the way people, with the lived experience of trauma, report feeling stigmatised, discriminated against and misunderstood. These impacts include emotional dysregulation, substance misuse, self-harm, and suicidal behaviours. Students will also appraise the eight foundational principles of trauma-informed care and practice that focus on modelling interpersonal relationships, working with cultural differences, advocating for consumer control and choice, inspiring hope, supporting recovery, and integrating care. The unit requires students to critically reflect on their practice through a trauma-informed lens and interrogate the importance of recovery-oriented practice when caring for people who have experienced trauma.
Mental Health Nursing (Unit Code HNO6008)
This unit will further develop students' professional knowledge and expertise in the effective coordination and delivery of specialised mental health care. Students will focus on understanding mental health disorders and how to effectively care for a person experiencing mental health issues or illness. Students will also gain a deep understanding of the philosophy and theory underpinning mental health care, its values and the specific skills to maintain therapeutic relationships and assist in person-centred health care that promotes recovery and resilience. The unit includes a critical review of psychology, to support a greater understanding of mental health disorders across the lifespan and cultural awareness when supporting patients' mental health and well-being. Students will also critically review models of self-care when delivering mental health care services across a range of settings. The unit will prepare students to provide evidence-based mental health care in a range of health settings.
Career outcomes
With VU Online's Graduate Certificate in Mental Health Nursing, you'll enhance your knowledge and skills in evidence-based assessment and intervention approaches in mental health. This course positions you to take on mental health care coordination and community mental health service roles.
Upon completion, you can continue your studies to gain your Graduate Diploma and Master of Mental Health Nursing.
For more information about career outcomes, download a brochure.
Student Support
VU Online provides you with the academic support you need, when you need it, throughout the course. With four layers of student support, our goal is to ensure you succeed in your studies. Our highly experienced academics understand how to deliver a quality online learning experience and are responsive and accessible.
You will also have access to a dedicated Student Success Advisor, who provides motivation and 1:1 personalised assistance with non-academic matters for the duration of the course. You will experience the support of a community through chat, virtual seminars and discussion board activity. Your support network is only a phone call or email away.
FEES and FEE-HELP
Our Graduate Certificate in Mental Health Nursing costs $2,600 - $2,700 per unit*. The total cost for all four units is $10,500.
FEE-HELP loans are available to assist eligible full-fee paying students with the cost of a university course. This Government loan scheme helps to pay for all or part of their tuition.
*2022 student fees are shown and are subject to change.
Commonwealth Supported Places
A Commonwealth Supported Place (CSP) is a place where the government pays for part of your unit fees. This is a subsidy, not a loan, so you do not need to pay it back. Your remaining fees may also be eligible for FEE-HELP. 
This subsidy is available to eligible students completing the Master of Mental Health. It is only applicable to specific units completed in 2022.  
To find out if you're eligible for this subsidy, visit the government's Study Assist. 
For more information on fees and student support, download a brochure.
Joe Sarraf
VU graduate
The MBA has proved useful as I transitioned into my current role. It was immensely beneficial; my practices, learnings and personal growth are attributable to the MBA.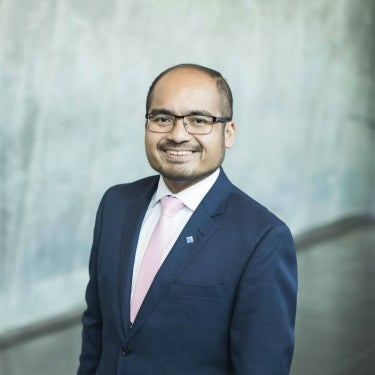 Maxwell Gratton
VU graduate
It was personally satisfying connecting and collaborating with a range of industry professionals. Many have become valuable work contacts, some even lifelong friends and career mentors.
Larissa Beech
VU graduate
There are some things that books can't provide and I feel that VU opened the door to a whole new way of critically thinking about the business world within which I operate.
Why study with VU Online?
Ranked among the world's top two per cent of universities, VU Online is respected by employers and professionals alike.
We offer degrees that empower you to progress over time, putting your dream qualification in reach – regardless of educational background.
Known for industry-focused courses as well as high-calibre facilitators and academics, VU Online combines a track record in tertiary education that puts students first with a deep understanding of contemporary online learning.
Study with VU Online and you'll be part of a vibrant, virtual community of like-minded peers, actively supported to achieve your professional goals.
Speak to a Student Enrolment Advisor
Our Student Enrolment Advisors are ready to answer your questions.
Drop us a line or schedule a call back at a time that suits you.
Enrolments and eligibility
Course duration and fees
Fitting study into your schedule
Study and course pathways
Applicants must hold current registration as a nurse in Australia.
If you are not currently a Registered Nurse (Division 1), you may be interested in studying our on-campus Bachelor of Nursing.
Learn more
Applicants must hold current registration as a nurse in Australia.
If you are not currently a Registered Nurse (Division 1), you may be interested in studying our Master of Mental Health or Master of Child and Adolescent Mental Health.
It's Popular!
people downloaded a course guide in the last 24 hours.
Back to top