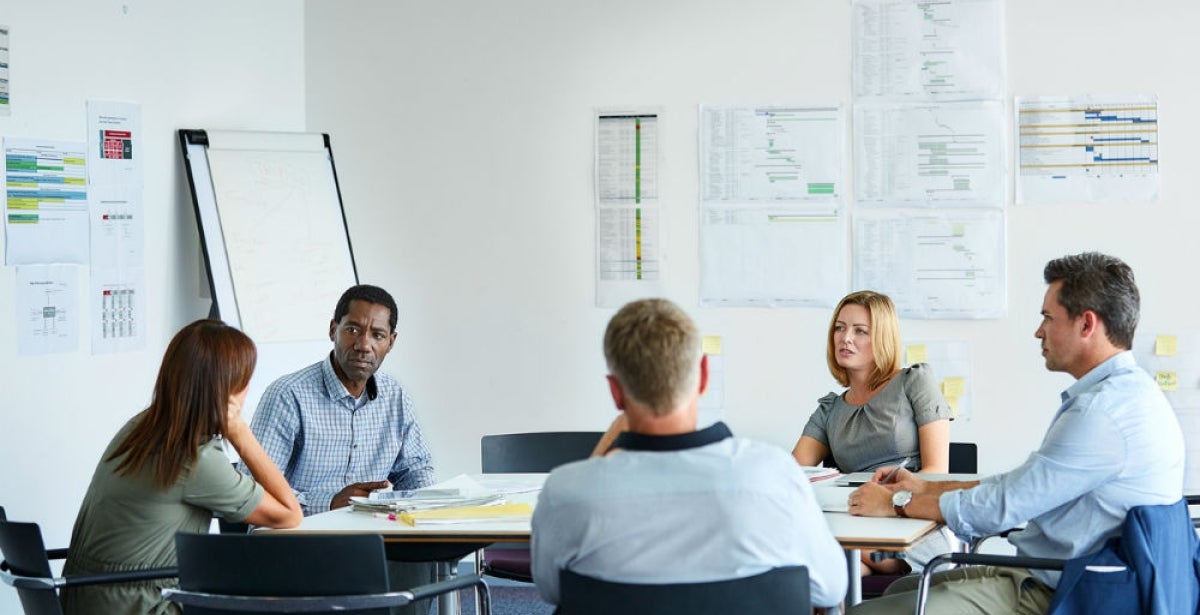 11 MBA Benefits for You and Your Employer
A Master of Business Administration can be an important investment in your career. There are a wide range of MBA graduate jobs available, and an advanced degree can also deliver a salary boost.
There are many different MBA specialisations, and you can undertake an MBA in a number of different ways. For example, some students elect to pursue an MBA full-time (which can make full-time work difficult), while others complete the MBA degree part-time or online. If you are choosing the latter, it's much easier to work while studying.
If you elect to do your MBA online or part-time, enlisting the support of your employer is a smart strategy. Not only should your manager understand your study commitments, but you'll also be able to discuss the potential MBA benefits for both you and your employer.
Top 11 MBA benefits
While an MBA is certainly an investment of time, money and effort, it can pay off for you and your employer. Here are eleven potential benefits to mention when discussing an MBA with your employer.
1. Study doesn't have to impact your work
It's a common misconception that an MBA will necessarily interfere with your professional role. Even if you work full-time, this doesn't have to be the case.
An online, part-time MBA is the most achievable model for busy working people. Online study is very flexible and allows you to continue full-time employment without having to travel to attend classes. You will be able to work a full 38-hour week and attend classes online after work. Most online MBAs also offer the option to watch pre-recorded online classes at a later time if you happen to miss them.
2. You can deliver increased value to your company
An MBA equips you with superior business and leadership skills, helping you deliver increased value to your business.
Talk to your employer about your vision for the organisation and how you see yourself bringing value on a long-term basis. Demonstrate your loyalty by sharing specific ideas about how you intend to use your MBA knowledge to improve outcomes. By supporting you in your studies, your employer will develop an 'asset' for the organisation: a future leader with unique strategic, analytical and financial skills to help take the organisation forward.
3. You can add new knowledge to your current role
Aside from additional value, an MBA can help you develop new, practical knowledge that you can use in your current role.
The Victoria University (VU) Online MBA, for example, emphasises career-based learning. From improving business models to better financial management, everything you learn online is designed to be immediately applicable to your work.
Assessment tasks provide you fantastic 'real-world' case studies to engage with and invaluable insights for your employer.
Starting with a business plan in the very first unit and ending with a final major project, your assessment tasks are relevant to your working life. And you will be getting personalised feedback from facilitators and academics who are experts in their fields, which you will be passing on to the business.
4. You'll bring an enhanced perspective to work
It can be easy to get lost in the day-to-day details of your daily work. However, in order to succeed, it's important to take a strategic, bird's-eye view and think more broadly.
One MBA benefit is that it will teach you to look at your organisation from a 'big picture' perspective and equip you for a broad spectrum of current and future leadership roles. VU's MBA course covers a range of disciplines and how they operate in the global business context, including financial analysis, human resources and marketing. Understanding challenges across all parts of the business will strengthen your decision-making and make you a stronger leader.
5. You'll develop strategic leadership skills
Leadership is more than knowing how to manage people and resources. Leaders need to be strategic: they need to understand the fundamentals of business and how to drive growth.
VU Online's MBA explicitly develops you into a strategic leader who can achieve organisational goals by influencing people within and outside the organisation. You will practise the complex skills of scanning the business environment and setting direction. You will assess your own leadership abilities, learn to demonstrate accountability in decision-making and create a plan to develop your personal leadership style. Studies in Performance Management and Rewards can support your leadership capacity.
6. You can benefit from a broader professional network
Networking is critical for business success. Forbes reports that 80 per cent of jobs are filled through networking, and many professional contracts and business deals also benefit from personal connections.
An MBA can benefit you by connecting you and your organisation to new perspectives and industry contacts. Our collaborative learning community will expose you to cutting-edge ideas, expertise and debate – and provide rich networking opportunities.
Through our online learning platform VU Collaborate, you'll have access to industry leaders and highly qualified academics, many of whom come from corporate and industry backgrounds. Your student cohort will include successful business people, entrepreneurs and future leaders. Our online study groups, chat sessions and interactive seminars allow you to learn from others and prototype your ideas in a supportive forum.
7. You'll bring a more strategic mindset to work
Thinking strategically about business, including how to manage people and change, is essential in today's fast-changing environment.
An MBA course will teach you how to lead your organisation through change. In every unit, you are taught to think strategically about the current business environment, but also to anticipate and lead change. With MBA units in Strategic Management and Business Policy, Organisational Change Management and Managing Innovation and Entrepreneurship, you will build knowledge of business practices and theories. More importantly, you will learn the analytical skills to create opportunities from emerging challenges.
8. You can develop in-demand digital skills
Digital skills are essential in today's workforce and will remain so in the future.Completing your MBA online equips you with the skills to thrive in our increasingly digital economy.
VU Online's MBA has a strategic focus on digital literacy, with every task requiring you to embrace technology and consider new ways to operate in the online environment.
If your organisation is struggling to adopt a digital mindset, talk to your employer about how an online MBA will help you move the business forward.
9. You can build awareness of corporate social responsibility
Another crucial dynamic in today's business world is reputation and the many factors that influence and protect brand identity. In our Business Ethics and Sustainability unit, you will apply your decision-making skills in the context of corporate responsibility and practise organisational responses to social issues. What's more, you will become adept in current and emerging marketing practices in our Marketing Management unit. Whatever part of the business you operate in, your organisation needs people who can look at every decision through the twin lenses of reputation and responsibility.
10. You can develop superior communication skills
Communication is an essential skill in all business roles, especially senior and leadership roles. And while communication may be considered a 'soft' skill (as opposed to hard skills such as financial management), it's just as important. Communication is what enables you to work effectively with stakeholders, lead teams and influence an organisation's C-suite.
Every subject in an MBA course has communication elements, and MBA graduates have a reputation for superior written and verbal communication skills that are honed through multiple assignments, class participation and real-life case studies.
11. You'll be better placed to drive the business forward
All of the skills and knowledge that you learn in an MBA, from business management to corporate social responsibility and strategic planning, can help you drive the business forward. This can have clear advantages for your employer, especially in a competitive market.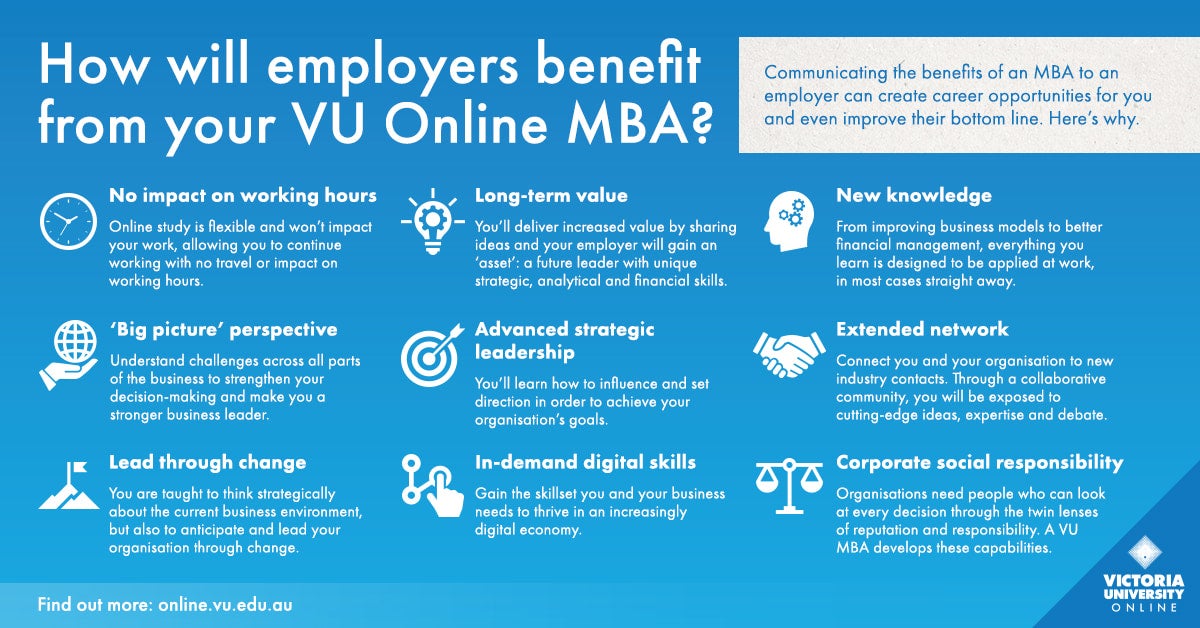 An MBA can benefit you and your employer
Undertaking an MBA can seem daunting, especially if you are planning to do so while working full-time. But flexible online courses can help you balance school and work obligations, and a degree like Victoria University Online's top-tier online MBA can benefit both you and your employer.
With flexible, 100 per cent online study and a six-study-period model, students can pursue a graduate education on their own schedule. Find out more about how an MBA from VU can advance your career.