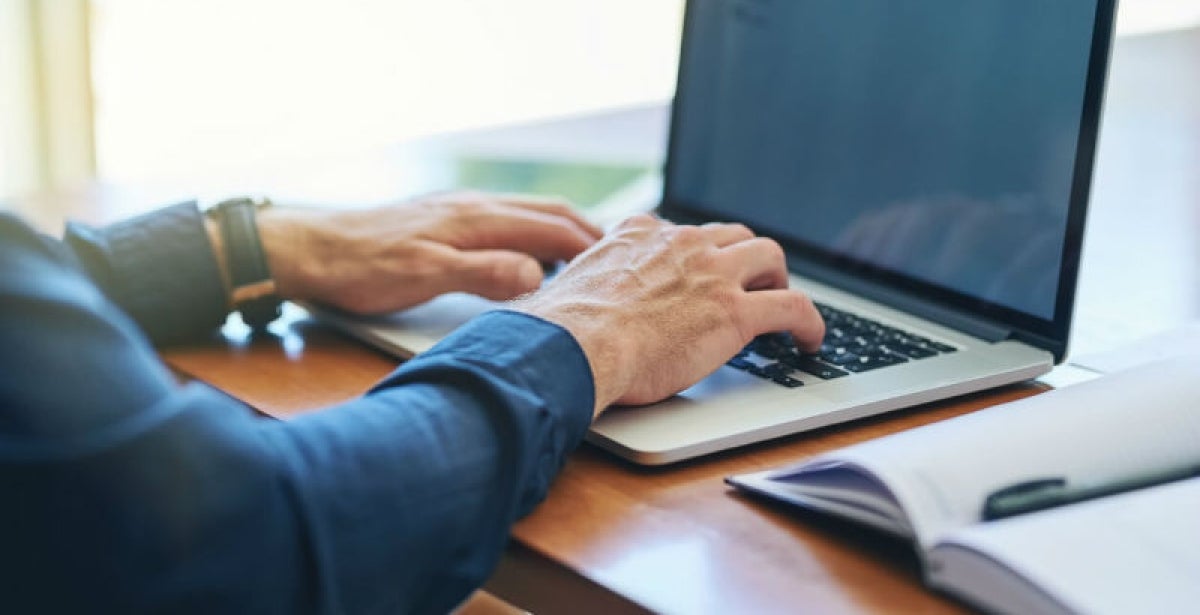 VU Collaborate: what to expect from our online learning environment
Victoria University (VU) Online's learning platform, VU Collaborate, makes postgraduate study more flexible and achievable than ever before. Everything you need for the duration of your course is accessible from your computer or smart device – when and wherever you choose to study.
To provide an insight into how VU Collaborate works, we asked VU Online learning designer, Stephen Abblitt, what postgraduate students can expect from this 'one-stop shop' learning management system (LMS), which is powered by the industry-leading Brightspace online learning platform.
What does online learning look like with VU Collaborate?
"At VU Online, we mean 100% online – there are no textbooks, no exams, no on-campus classes. Everything you need to complete your degree can be easily accessed on VU Collaborate," says Stephen.
VU Online also provides students with the support they need to achieve their study goals via VU Collaborate.
"This includes providing timely support from academic facilitators and peers, who are ready and willing to engage with students online and provide help, guidance and advice whenever our students need it," he says.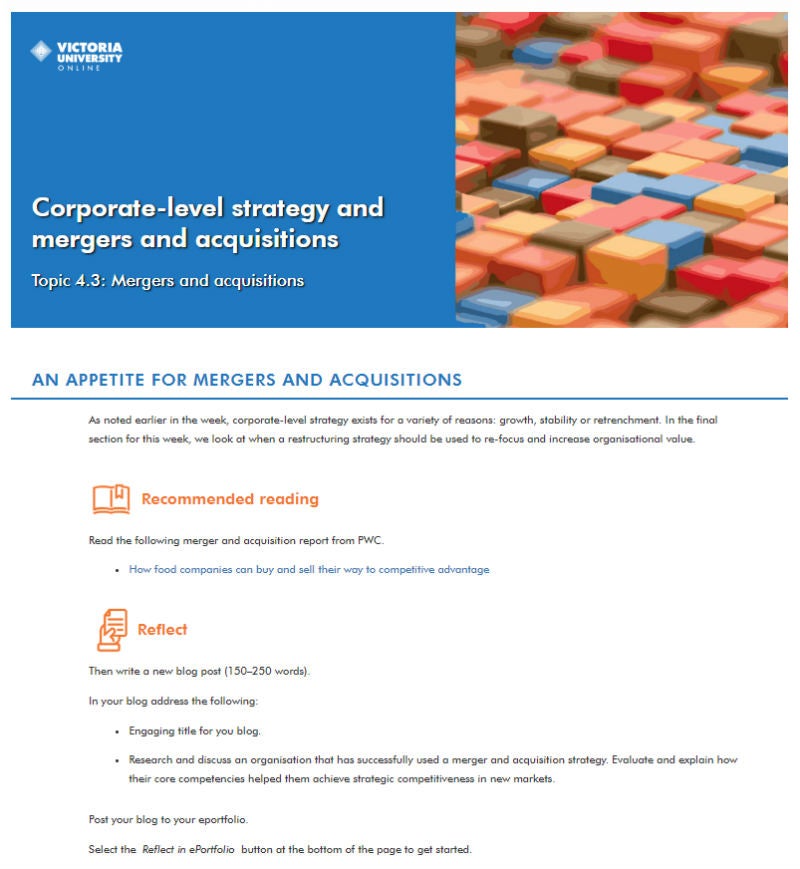 A snapshot of a weekly topic in the VU Collaborate learning space.
Every unit is designed to prepare students for their career aspirations. "Through VU Collaborate, we ask students to apply their learning to anticipate and solve problems they will face in their workplace. Learning online alongside peers and industry leaders helps students develop the critical thinking skills to not only cope with change, but to be ahead of change," Stephen explains.
"The student experience is very active. No-one learns by passively consuming information. Our students certainly build up significant abstract and theoretical knowledge throughout their degree, but with VU Collaborate the learning is very practical, and they learn by doing. Our students learn by doing."
Making online learning accessible, intuitive and social
With their unique login for VU Collaborate, students can access all their coursework and assessments (including interactive seminars), collaborate with peers and academics, and easily contact the VU Online support team.
Stephen says this model is particularly effective for learners who are managing study alongside demanding jobs and/or family life.
"Many of our students pursue further study for very strategic career reasons. They are often highly motivated but need to be time efficient. They really value autonomy and flexibility, and that's what VU Collaborate provides."
Importantly, VU Online course content – although equivalent to on-campus course content – has been redesigned to suit an online environment. With the online Master of Business Administration (MBA), for example, online learning designers have taken the best content from VU's award-winning MBA and redesigned it for online study.
"We have captured the vision and teaching expertise but carried it across to media that works online, be it video, audio or text," Stephen explains.
He says students will find VU Collaborate 'instinctive' to use, with features like news feeds, live seminars and comment streams influenced by popular social media forums.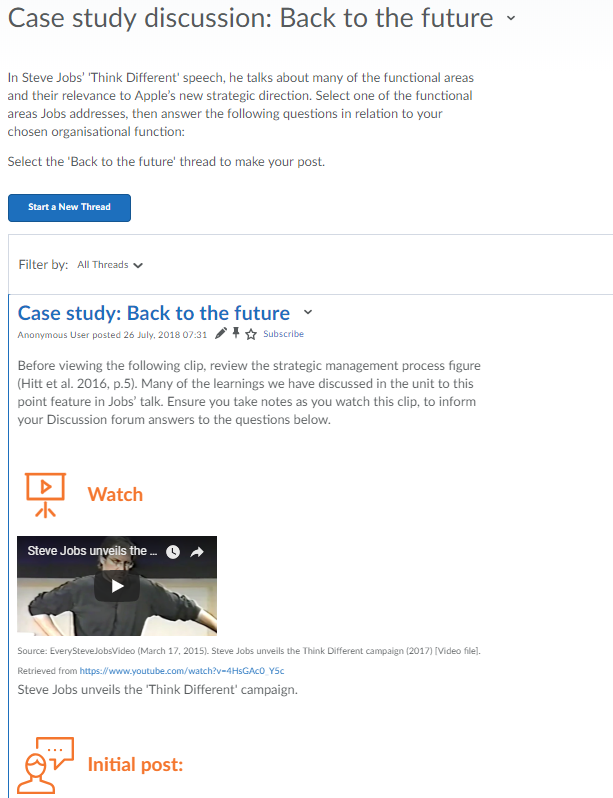 What does a online discussion thread look like? This is an example from a unit in the MBA course.
"From the navigation to the visual style, it is a very familiar and highly interactive e-learning environment. The coursework is visually engaging, and students are able to break it down into bite-sized chunks."
Online learning for the real world
VU Online is building on VU's reputation for empowering students with an industry-focused and career-based education.
In the case of the online MBA, students can apply their assessment tasks to their career aspirations, start-ups or current businesses.
"We help students use their online MBA to set themselves up for where they want to be in their career, whether it's to move upward, sideward or even to start their own business," Stephen says.
Working in VU Collaborate means digital skills are effortlessly integrated, helping students from diverse backgrounds to become confident digital citizens who can adapt to changing technologies.
Problem-based learning is also a key element, which Stephen says is a hugely successful technique for engaging students.
"We set students up with an authentic and challenging problem they would likely encounter in their professional lives, and use that as a focus for learning," Stephen explains.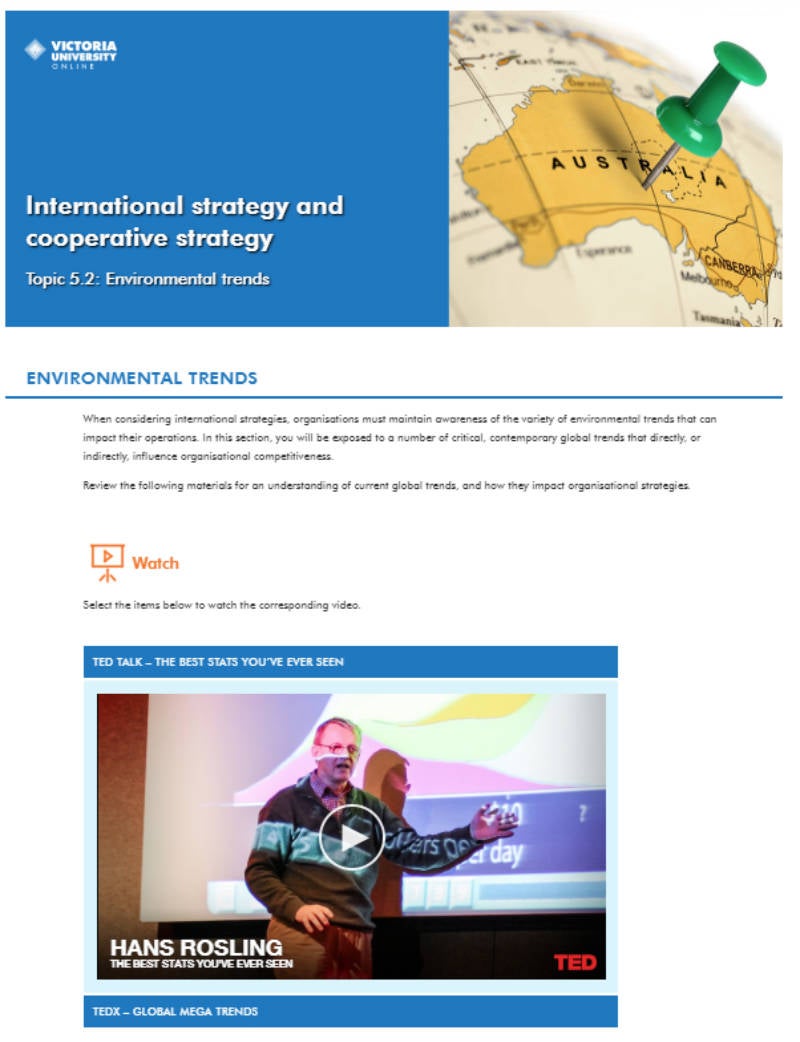 Interactive and engaging multimedia, like videos, are intertwined in the weekly content.
"Through video, podcasts, reading and supporting activities in VU Collaborate, students engage with the subject matter in a complex and critical way, then solve problems individually or in small groups."
Authentic case studies involving well-known companies and brands are key teaching resources in VU Online's courses – with rare access to industry leaders providing further insight.
How do VU Collaborate's online learning communities work?
Thanks to VU Collaborate, online students can still access the collaborative learning and professional networking opportunities of university life. In fact, Stephen believes the online space often sees more dynamic participation than on-campus.
"VU Collaborate provides a highly social and collaborative experience. We do a lot of chat sessions – formal and informal – and run online study groups.
"We have done a lot of work to ensure the presence of academic and peer support is highly visible."
In the online MBA, for example, there are live seminars in every unit. While students can access these seminars after the event, live participation provides unique access to experts in the field.
"This is an opportunity for the entire cohort to come together to hear from academic and industry leaders, to ask questions and hear about the real challenges faced by the people who have achieved what they want to achieve,' Stephen explains.
"Alternatively, students can watch the seminars in their own time and still benefit enormously from the discussion."
Online study groups are a chance to learn from other highly skilled people. "They are a really valuable way to consolidate learning and help students formulate and express their ideas."
Support is the key
While flexibility is valued by students, Stephen says online study can be isolating if support is not built into the course design. That's why VU Online provides students with an academic facilitator and coordinator for every unit. Experienced online facilitators are experts in the unit's discipline, Stephen likens these facilitators to "a small army of personalised tutors."
"Students receive significant support from their facilitator. Our research shows that this level of expert, personalised support is the key to ensuring our students succeed and achieve their study goals."
VU Collaborate also allows both students and their facilitators to track academic progress and communicate regularly, solving issues before they become problems.
Students benefit from the expertise of a unit coordinator, who is the primary academic responsible for the unit. These professionals run virtual seminars and other online communications on VU Collaborate – as the "very visible academic face of the course", Stephen says.
VU Online's dedicated Student Success Advisors provide another layer of support, acting as non-academic mentors throughout the course.
---
With our high-quality courses and intuitive VU Collaborate platform, there's never been a better time to complete a postgraduate degree with VU Online. Find out more about our online postgraduate courses today or get in touch with our Enrolment team on 1300 682 051.