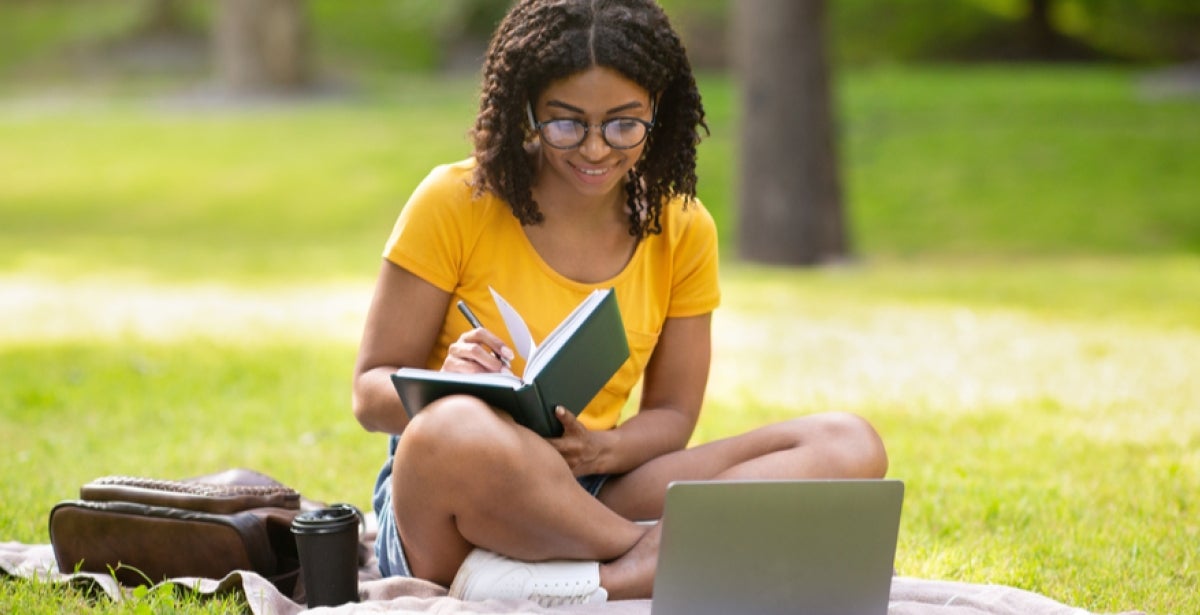 Online Study Tips: Making the time to Study Online
You know that updating your professional qualifications is important, but you're worried about finding the right balance between work, family life and further study.
Online learning practices have changed higher education, making it accessible for even the busiest professionals. That means you will be more likely to be able to fit online study around your schedule. The self-paced format of online learning also gives you more time to focus on each unit and balance your studies with your other commitments.
With VU Online's postgraduate programs, you can achieve your study goals and, at the same time, lessen career or family stress. In this article, we'll share online study tips to help you during your postgraduate journey.
Is online study ideal?
It's the 21st century; life is busy. Attending on-campus university classes in a traditional classroom setting every week simply isn't an option for many professionals.
The best online courses offer you the opportunity to study anytime, anywhere, and access coursework, assignments and content wherever you have a device and reliable internet service.
The good news is that our online learning platform VU Collaborate is a 24/7 virtual one-stop-shop that helps you manage your study commitments at times that are most convenient for you. At the same time, online courses offer an educational experience every bit as community-oriented and academically rigorous as in-person learning would be.
However, there's no doubt about it, once you take a break from university, returning to study can feel daunting. If you're preparing to be an online learner for the first time, the thought of completing assignments may be overwhelming.
A few tricks of the trade can help you quickly find strategies to manage and thrive in an online tertiary academic environment. At VU Online, we know exactly how to prepare you for an online program. Following are our top tips for online learning success.
Online study tips
1. Eliminate distractions
It's not easy to stay mentally engaged while studying online, so it's best to eliminate distractions. The number one thing to eliminate while you are studying is your mobile phone. Many students (and others) are habitually addicted to checking their phones and social media accounts. When you are studying, set your phone to "do not disturb" and leave it in another room.
Other distractions to eliminate are online notifications and emails. Turn off notifications on your computer. Schedule one or two periods every day to deal with online correspondence.
If you are studying in your dining room or have a dedicated study space elsewhere at home, remember to treat study like it's a job. Don't allow your concentration to wander by attending to other tasks such as laundry or housework.
2. Stay focused
The online learning format is convenient and flexible. It allows you to work from anywhere, day or night. However, online classes mean there is no classroom or instructor, so you are responsible for managing your own time and assignments.
It's up to you to stay on track with self-directed learning.
Before your online studies start, take a look at your schedule for the next few weeks and mark out time for online assignments. Put reminders in your phone or online calendar, so you won't miss any due dates.
At the beginning of every study period you should also:
Make sure you have a high-speed internet connection.
Review materials from previous study periods.
Set daily study targets.
Define your learning objectives.
Reaffirm your online studies as a priority.
Think about your big why — where will your online course take you?
Plan your study habits.
Connect with your course academics and facilitators.
Introduce yourself to fellow classmates through VU Collaborate.

3. Plan ahead
Make the most of O-Week and use the time to familiarise yourself with the course materials and troubleshoot any technical difficulties. Even if you have studied with VU Online before, it's important to use this time well so you can get off to a strong start in Week 1.
Be realistic about the time it will take to complete online class material and assignments. When you plan your weekly schedule, factor in any online group discussions or online course forums you may have to contribute to. If you're having trouble, you can always get in touch with your facilitators or Student Success Advisor.
Stay organised by having your supplies at your fingertips: healthy snacks, study materials, to-do lists and an up-to-date study calendar.
4. Take advantage of flexible learning
Flexible postgraduate courses can take the stress out of the study experience because they allow you to tailor your study plan around your other commitments.
VU Online's postgraduate programs offer in-built, flexible study options designed to meet the individual circumstances of students. You can enrol in six units per calendar year to accelerate your studies; or when your schedule is full with work or family commitments, you might choose to limit your course load to allow for extra breathing space — it's up to you.
5. Create a schedule
Good time management won't just help you meet deadlines, it will help ensure you feel mentally on top of your studies. Before each unit gets underway, get your head around what you need to achieve versus the time you have available to achieve it.
It's a good strategy to keep a diary or study plan that includes exam dates, assessment deadlines, appointments and work or family commitments. Be honest with yourself and set your priorities. Then, create a realistic study schedule and hold yourself accountable. If possible, set aside a few 'non-negotiable' study sessions each week and prioritise that time throughout your course studies.
Are you a morning person or a night owl? Do you need a break in the afternoon? Finding out when you are most focused and productive will help you stay on track for online study success.
Remember, you can get a lot done in a short period if you are focused. Set a timer for 25 minutes and see how much you can accomplish! Then take a break for a few minutes and start the timer again. Don't just schedule study sessions — you should also schedule breaks to ensure you get enough fresh air, exercise and remain alert.
6. Join the community
Embrace opportunities for interaction that will enhance your study experience and help you connect with other students. With VU Online, you will be able to actively participate in relevant online communities and networks. Join group discussions about coursework, interact regularly with academics and facilitators, and make the most of their personalised feedback or advice.
Don't forget that, as a VU Online student, you will have access to a personal Student Success Advisor who is committed to delivering the support you need when you need it. Your Student Success Advisor can help you keep on top of course requirements, key dates and re-enrolment.
7. Stay inspired
Keep your eyes on the prize. Mentally focus on your long-term study and career goals by regularly reminding yourself exactly why you chose to study in the first place. To stay motivated, reward yourself as you achieve each small milestone, such as completing a unit or finishing an assignment.
Postgraduate study is a significant journey. Being mentally prepared can make it easier, more enjoyable, and ultimately, more rewarding.
Why study with VU Online?
We make it easy to fit study around existing commitments including work, family and children. We specialise in helping students with busy lives succeed.
Our postgraduate courses are delivered online and — unlike traditional on-campus study — there are no prerequisite lectures you're required to sit through because we understand such a model simply won't work for the majority of our students.
By its very nature, the global reach of online learning enables you to virtually study alongside other students who come from all walks of life and from locations around the world. Your location is no barrier to learning and doesn't preclude you from interacting with your fellow students — no matter where they may reside.
Studying online can be difficult because it can be hard to stay motivated and on top of your work. At VU Online, we make it easy for you to achieve success by providing a variety of support services to help you succeed. Our online learning experience is designed especially for busy people with full-time jobs or families.
---
Find out more about online study or call one of our Student Enrolment Advisors on 1300 682 051.