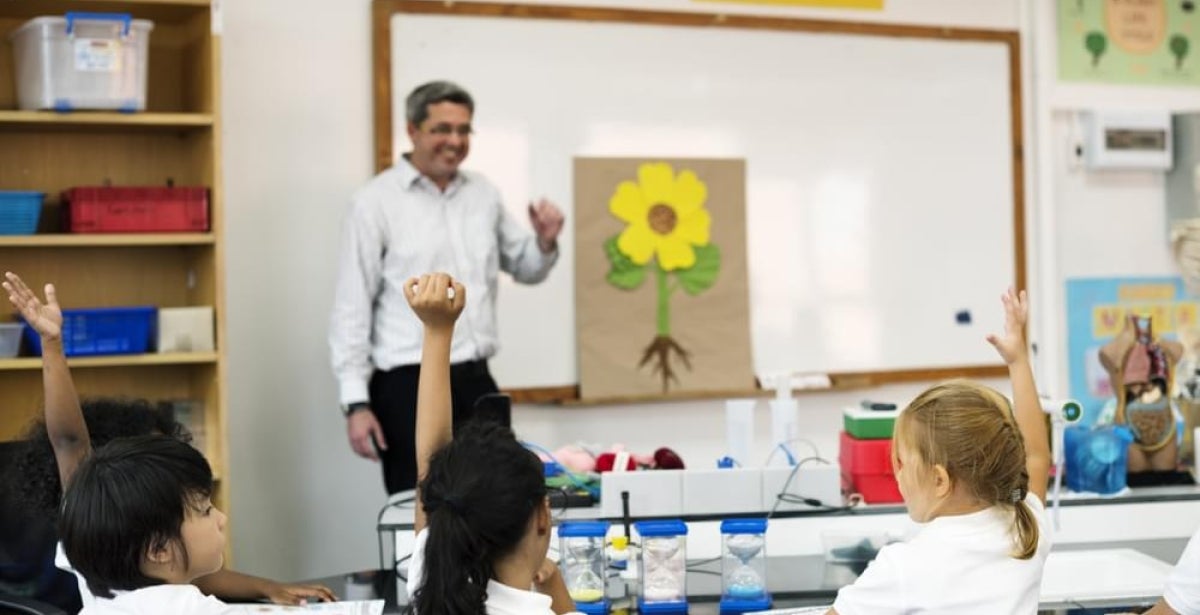 A Day in the Life of a Primary School Teacher
Have you ever wondered what a day in the life of a primary school teacher looks like? And do you know if you have what it takes to be a teacher who makes a difference in their students' lives?
If you've considered switching careers to become a teacher, these questions have probably crossed your mind. Teachers have one of the most important jobs in the world, and the education and training sector needs more exceptional people to keep it that way.
If you already have an undergraduate degree in another field, you can become a teacher by studying a Master of Teaching (Primary Education). This postgraduate degree allows students with backgrounds in different professions to gain the skills and qualifications they need for a rewarding career as a teacher, without having to study another bachelors degree.
Before you jump into your studies to embark on a career-changing move, you might be looking for more insight into the day-to-day life of a teacher. Read on to find out what makes primary teaching a satisfying career and what the average day looks like for a primary teacher in Australia.
Australia's need for teachers
Staff shortages due to COVID-19 and an ageing workforce paired with increased numbers of student enrolment have created a significant gap in the profession.
The Australian Government's National Skills Commission states that the growth rate for primary teachers will be 5.1 per cent by 2026.
The federal Labor Government are also introducing initiatives that harness the existing teaching workforce and attract new teachers to the career. This includes financial support for regional, indigenous and high-performing students of up to $10,000 a year if approved.
Is primary teaching a good career?
When it comes to primary teaching, few careers are as enriching. Ask any school teacher and they'll probably tell you that the main reason they chose this path was to work with kids and make a difference.
And they're not alone.
The Australian Curriculum, Assessment and Reporting Authority's (ACARA) survey of teachers found that working with children was the number one response, with 30.7 per cent of educators agreeing. A desire to teach and the chance to be a positive role model were also popular answers.
Although the main reason people give for wanting to be a teacher is to work with kids, income is also important.
According to Payscale, the average primary school teacher salary in NSW is around $72,173. A primary school teacher's salary in Melbourne is slightly less, at $70,497. This represents the average earning of entry-level positions, specialist teaching, management roles and everything in between.
Why become a teacher?
Alison Rasheed is a Year 3 teacher and middle leader at a primary school in NSW. With 27 years of teaching experience, she believes there's no better job in the world.
Her parents were also teachers, so from a young age she was able to see the meaning behind the work. She now understands firsthand their passion for teaching.
"I find it so rewarding to have those relationships with little people, knowing you are the third most important person in their lives after their parents," she says.
Alison also speaks about the opportunities she was afforded by working as a teacher. She was able to teach abroad, travel when her children were young, and work in a casual, part-time or full-time capacity as it suited her.
Other benefits of pursuing a career as a primary teacher include job stability and high demand for teachers' education and skills. You'll have a career where no two days are the same and you get the chance to impact people's lives from childhood.
A day in the life of a primary school teacher
A good teacher does more than just teach. And for a primary school teacher, each day brings something different.
In addition to educating children with different materials and teaching techniques, they guide, discipline, plan, communicate, manage conflict and make emotional connections with their students. They organise the classroom, keep it tidy, construct displays, create engaging content and make it feel like a second home.
Besides indoor activities, there's a lot to do beyond the classroom. Playground duty, parent-teacher conversations, marking and feedback, staff meetings and general administration are some of a teacher's other duties.
To get an idea of what to expect when you become a primary school teacher, we asked Alison about a typical day in her classroom.
Before school
Alison arrives before 8:00 am each day to organise the resources for the day's lessons. She plans the different periods, gathers equipment and materials, and prepares the classroom.
Morning classes
The classroom opens at 8:45 am and the students come in and get comfortable. Alison does the roll call and the day officially begins. The morning usually starts with a core lesson in English or maths, and sometimes a double period is spent on these lessons.
Depending on the day, Alison and another Year 3 teacher might choose to open the dividing doors of their classrooms and work as a whole year group. One teacher circulates and helps students while the other delivers the lesson in front of the class.
Specialist teachers also provide lessons to students depending on the day. When the students go to these classes, Alison usually spends time marking the work they completed in the last period.
Breaks
There are two breaks at primary school, and Alison spends one of those on playground duty, supervising the students. During the other break, she eats her lunch.
Teachers also have planning periods, sometimes called free or RFF (Released From Face-to-Face). During this time, Alison provides feedback to students on digital platforms like Canvas or speaks to them in person. She sets up classroom displays and organises things.
Afternoon classes
After lunch, the children return to the classroom, and Alison delivers another core lesson, usually history or geography. Depending on the timetable, the students might also go to a specialist class that afternoon.
As a teacher in middle management, Alison also visits other classrooms while her students are in specialist classes. She checks in with the school's high-needs students and their teachers. Sometimes, she does administrative tasks like responding to parents' emails or finalising details for the upcoming school camp.
After school
The school bell rings at 3:15 pm to signal the students' end of the school day. Once the children leave, Alison stays in the classroom until at least 4:30 pm. She organises the classroom and marks the students' work.
Alison brainstorms and plans with the other Year 3 teacher about next term's lessons to prepare them before school breaks up for the holidays.
Is primary school teaching hard?
Being a teacher is like any job: it has its ups and downs. However, overcoming the usual challenges is easier when you're prepared for them. These six teacher-approved tips will help you navigate the journey through the classroom and complement your university studies.
6 Tips for success
1. Find a work-life balance
A work-life balance is imperative as a teacher, but it takes experience to get it right. Most teachers believe there aren't enough hours in the day to do everything they need to. Some feel obligated to stay back every night to get things done. This behaviour and thinking can lead to burnout. Graduates in a teaching role need to create a schedule that works for them and prioritise their tasks to ensure they get downtime.
2. Do things in the moment
A teacher is responsible for juggling many tasks simultaneously, and with plenty of distractions. Alison believes that doing things while they're fresh in her mind has helped to mitigate some of this stress. Rather than waiting until you get a quiet moment to do something, try to action it as it happens.
3. Consider the child and the class
Every child is different, as is every classroom. A teacher's biggest challenge is finding the balance between the needs of an individual student and those of everyone else. One of Alison's classroom management strategies is dedicating the first term of the year to team building. "It's about genuinely showing the students that you care and creating a sense of teamwork. We're a group that supports each other and cares about each other, and it's an environment where it's okay to make mistakes, because that's how we learn,' Alison says.
4. Open communication with parents
Never underestimate the importance of open communication with parents. Communication is not only about discipline but ensuring parents are in touch with their child's learning journey. It also allows the teacher to discover what might be happening in the student's personal life outside of school.
5. Create a positive learning environment
The classroom environment affects student behaviour significantly. Ensure the classroom is organised and neat, present the student's work proudly and create engaging displays relevant to their lessons. As a crucial part of the learning environment, teachers must be mindful of how their emotions and behaviour influence the students.
6. Make learning fun
As cliché as it sounds, learning should be an enjoyable experience for you and your students. A classroom should have peaks and lulls in energy, and you should do things that surprise your students. According to Alison Rasheed, 'it's important to push yourself out of your comfort zone to vary the lessons. It creates engagement and excitement in the classroom.'
Be the difference and inspire students to be their best selves with VU Online
Studying a Master of Teaching (Primary Education) with VU Online will equip you with the skills you need to be classroom-ready and support your students.
VU Online's award-winning postgraduate Block Model makes it easy to study online according to your schedule and achieve your goal of becoming a teacher in less than three years.
Contact one of our Student Enrolment Advisors to learn about entry requirements and the application process, or read the Master of Teaching (Primary Education) course page for more information.
Let VU Online help you become the teacher that makes a difference.