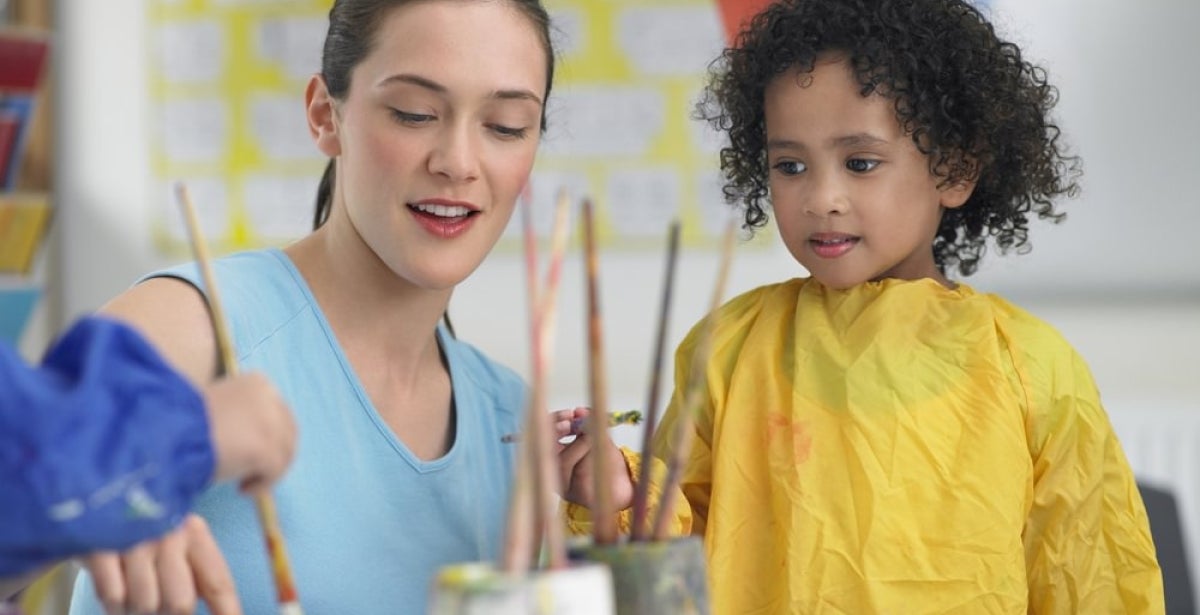 How to Become a Primary Teacher in Australia
Primary school teachers make up a large proportion of the workforce in Australia – and with good reason. Not only does this role give an opportunity to make a difference in the lives of young people, but with our ever-increasing population, demand for primary school teachers is expected to grow.
In 2021, there were 156,041 primary school teachers across Australia [1]. According to the National Skills Commission Employment Projections, that number is likely to reach 179,800 teachers by 2025 [2].
If you're ready to become an educator who is empowered to make a positive difference for children, families and communities, here's how to become a primary teacher in Australia.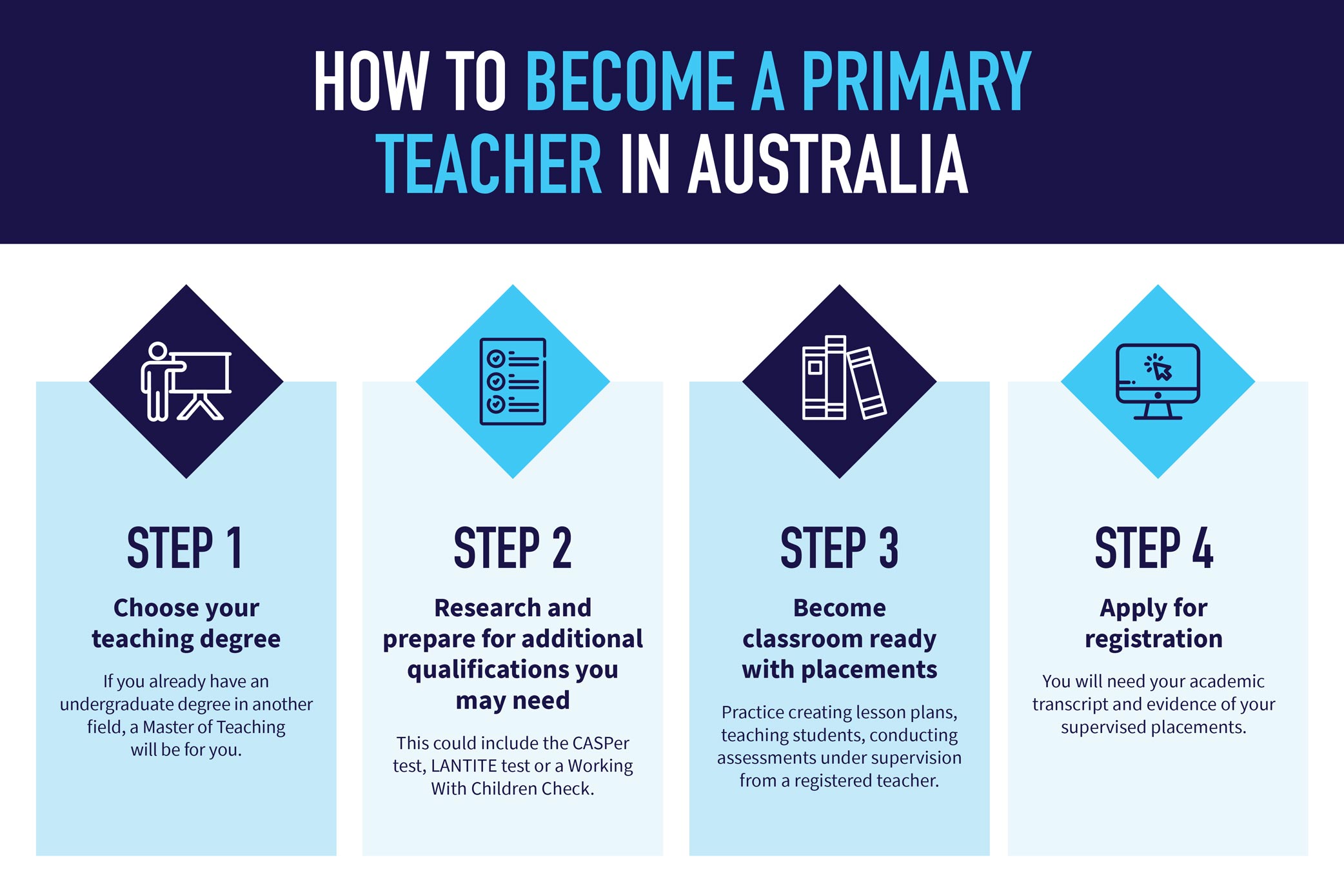 Step 1: Choose your teaching degree
At this stage, you're probably wondering what you need to study to become a teacher.
One way to become a primary school teacher is through higher education – by completing a four-year, full-time Bachelor of Education degree with a specialisation in primary education.
But how can you become a teacher if you already have a bachelor degree? In that situation, you need a Master of Teaching.
VU Online's Master of Teaching (Primary Education) is a part-time postgraduate degree. It allows you to build on any undergraduate degree to develop the skillset required to effectively teach a variety of subjects in all areas of the primary curriculum.
What this means is that you can continue working in your existing career for most of your degree. You can also bring your wealth of previous work and life experience to a range of subjects in the classroom.
One of the best tips for choosing a tertiary teaching degree is to select a university that gives you extensive professional experience through supervised placement. A university like VU Online offers the support you need to become classroom ready.
Step 2: Research any additional qualifications you need
So other than a teaching degree, what qualifications do you need to be a teacher? The answer may surprise you, because there's also a few additional qualifications you'll need.
Some of these qualifications will be required before you apply for VU Online's Master of Teaching (Primary Education), while others become relevant during your studies.
Complete the CASPer test
The name CASPer comes from Computer-Based Assessment for Sampling Personal Characteristics. Employment and educational organisations around the world use this standardised test to find out what you would do in challenging situations.
The Victorian Government has aligned the selection framework for Initial Teacher Education (ITE) courses with the Australian Institute for Teaching and School Leadership (AITSL) guidelines which require the assessment of non-academic capabilities or personal attributes. That means that you'll need to complete the CASPer test as part of your application for VU Online's Master of Teaching (Primary Education) [3].
This is one of the first steps to becoming a primary school teacher in Australia, and you'll need a computer with a video camera, microphone and either the Firefox or Chrome web browser.
Pass your LANTITE test
The Literacy and Numeracy Test for Initial Teacher Education Students (LANTITE) is compulsory for all aspiring teachers in Australia. This is because before you can test student progress in English literacy and numeracy, you'll need to prove that your literacy and numeracy skills meet the required standard.
To meet the Victorian Government requirements for initial teacher education, you must achieve a LANTITE test result in the range expected of the top 30 per cent of the population in Australia.
Now this is a test that you'll want to study for, but not necessarily straight away. You can actually complete a large part of VU Online's Master of Teaching (Primary Education) before you need a LANTITE result – including classes on language, literacy and mathematics.
The Australian Council for Educational Research (ACER) run the LANTITE test, and they also provide a test-taking strategy to help you perform at your best [4]. ACER conduct LANTITE tests at four different times each year at test centres across the country.
Master of Teaching (Primary Education) students will need to pass the LANTITE test in order to demonstrate that their literacy and numeracy skills are within that expected of the top 30% of the population in Australia.
Obtain your Working with Children Check
Until you become a fully qualified teacher registered with the Victorian Institute of Teaching, you'll need to hold a valid Working with Children Check before you step into a primary school classroom.
A Working with Children Check is a process managed by the Victorian Government to ensure workers meet the requirements of the Worker Screening Act 2020. This screening process reviews the criminal history and relevant professional conduct findings of applicants to assist in protecting children from sexual or physical harm.
As a student of VU Online's Master of Teaching (Primary Education), you'll be heading into the classroom as part of 65 days of placement (more on that in a moment).
Obtaining your Working with Children Check is as simple as heading into a Post Office with your proof of ID and application fee [5]. While you're there, the Post Office will take your photo for your Working with Children Check card.
Working with Children Check applications can take 3-12 weeks to process, so don't leave it too close to your placement date to apply.
Complete your Teaching Performance Assessment
A significant final hurdle for students studying education in Australia is the Teaching Performance Assessment. This assessment comes after you have completed placements, and you will be prepared for the process during your studies.
As a pre-service teacher, you'll collect evidence of your activities while on placement to satisfy your Teaching Performance Assessment. Your supervising teacher and VU Online academics will also gather evidence throughout your placement as part of this process.
Assessment for Graduate Teaching (AfGT) is an approved Teaching Performance Assessment (TPA). TPA programs are reviewed and endorsed by an expert advisory group that is part of the Australian Institute for Teaching and School Leadership.
The goal of the TPA is to ensure that teaching graduates are classroom ready. As it's an integral part of your first hands-on teaching experience, we hope you'll enjoy your TPA in the same way you enjoy your placement.
Step 3: Become classroom ready with placements
One of the most exciting parts of your postgraduate experience will be completing your classroom placement. With VU Online, you will spend 65 days on placement, where you'll apply creative and critical thinking in your teaching practice under the supervision of a registered teacher – from lesson plans to teaching, assessing and reflecting.
Did you know that VU offers more placement days than most other universities? That extra time in the primary classroom was one of the key reasons why Irena Sugarevski chose to study with Victoria University.
"I truly believe my placements enabled me to become the teacher I am today – without them I don't think this job would have been offered to me," says Sugarevski.
Placement is a valuable opportunity to develop the skills you need to seek employment as a primary teacher and use self-reflection to improve your practice.
"During one of my placements I did some team-teaching with another student teacher, and we were both offered jobs at the end of it!"
Like Sugarevski, you'll spend 65 days in a primary school classroom – learning by doing.
How do teachers prepare for placement? Before and during your experiential learning you'll have personalised support on the phone and email from VU's Project Partnership Office.
We've put the supports and processes in place to help you succeed in the classroom. You'll also gain essential real-world experience and have the opportunity to improve your professional practice through self-reflection.
Success for us is when you achieve your goals.
"My new position is part-time and at a local independent school – exactly what I set out to achieve," says Sugarevski.
Step 4: Apply for registration
Once you have completed your Master of Teaching (Primary Education) and all the additional qualifications, one of the final entry requirements to become a primary school teacher in Australia is to apply for registration as a teacher.
All primary school teachers are required to be registered. This accreditation confirms their qualifications and commitment to ongoing professional development.
The registration process begins with a qualification that meets the requirements of the Australian Professional Standards for Teachers, such as VU Online's Master of Teaching (Primary Education).
This degree is accredited by the Victoria Institute of Teaching (VIT), which means graduates will be eligible for registration to teach in the whole of Australia, whether you're studying in Victoria, New South Wales or anywhere else.
To apply for registration, you'll need your academic transcript for all relevant qualifications as well as evidence of the number of supervised practice teaching days completed during your initial teacher education.
Step 5: Begin your career and be the difference
Remember the teacher that made a difference? The one that believed in you. The one that understood you and the way you learned. With VU Online's Master of Teaching (Primary Education) you can become that teacher for the next generation of students.
Good teachers do more than teach – they understand that learning is a dialogue, that every person has a voice, and every place is a learning opportunity.
They create classrooms where teachers and students care about each other, where there is equity and opportunity, where the foundations for success are set, and a life-long love of learning begins.
Ready to be the difference and become a primary school teacher? Build a resilient reaching practice and gain hands-on experience with VU Online's Master of Teaching (Primary Education).
Sources
[1] Australian Bureau of Statistics: Schools
[2] Job Outlook: Primary School Teachers
[3] VU: Casper Test - General Questions
[4] ACER: Test-Taking Strategy