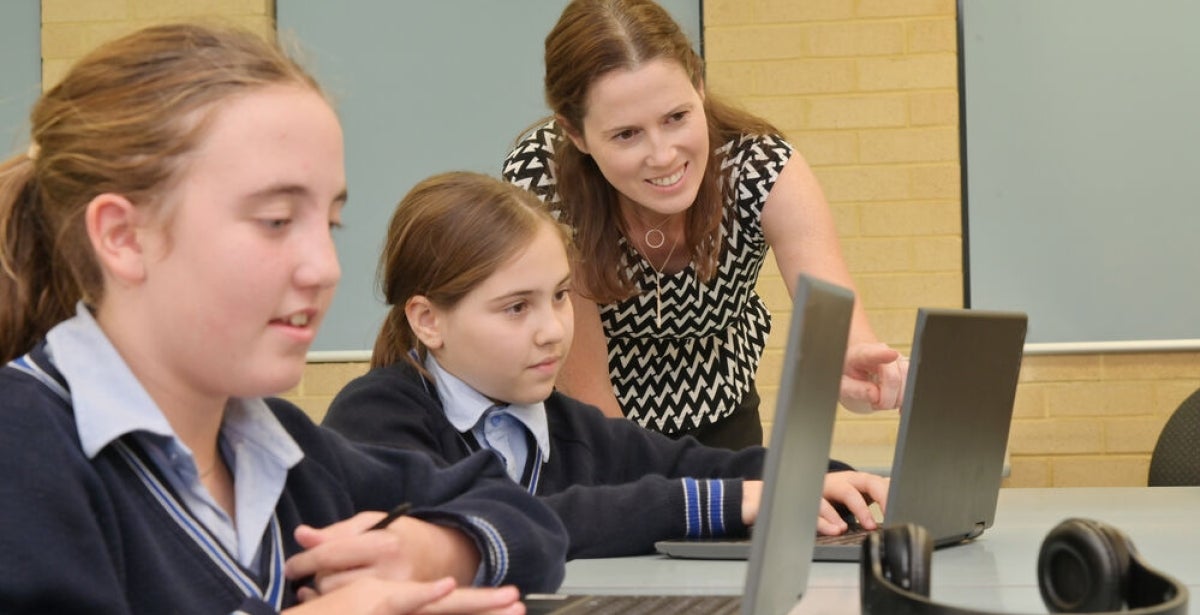 Why do a Master of Teaching (Primary Education) Online?
Australian schools are facing a shortage of qualified primary teachers like never before. With issues like staff shortages due to COVID-19, a decrease in students completing teaching courses, and an ageing workforce not being replaced, our need for qualified teachers is evident.
Thankfully, by studying a Master of Teaching (Primary Education) online with VU, you can be the solution that our schools and classrooms need. This postgraduate degree is for students who already have an undergraduate degree in another field, who want to switch careers to become a teacher. It covers everything from language and literacy to approaches to learning, and it will equip you with the skills and practical experience you need to be classroom ready in less than three years.
Before we dive into postgraduate education for future teachers, let's first take a look at the demand for educators in Australia.
Australia needs more teachers
Australia is experiencing a staff shortage of qualified teachers in primary schools. As the profession that has the most significant in-school impact on students, ensuring we have enough teachers to help our children through primary school is critical.
It's not just public schools noticing the gap within the profession. Catholic schools in NSW have predicted a 15 per cent workforce shortfall by 2030.
The issues contributing to Australia's current need for primary school teacher include:
The COVID-19 pandemic
Increase in primary student enrolments
Ageing workforce
Lack of graduate teachers
Let's explore these in more detail.
COVID-19 pandemic
COVID changed the way we teach and learn at school. The introduction of remote learning, state-wide and national lockdowns and increased absences due to illness all affected staff availability in our schools.
In addition to sick leave, the introduction of the COVID Intensive Learning Support Program, or COVID ILSP, by the Department of Education made things more challenging. Casual teachers were called upon to tutor kids affected by remote learning and lockdowns, removing the casual buffer that many schools rely on.
Increase in primary student enrolments
According to the Department of Education's Teacher Workforce Shortages issue paper, student enrolments in primary schools have grown steadily and are projected to grow by 11 per cent between 2021 and 2031.
The concern is that the number of students will overtake the number of teachers available. This could lead to larger class sizes and students not getting the required attention. For primary-aged children, the impact of this will be significant.
Ageing workforce
An ageing workforce has also created a shortfall in primary school teachers and represents an essential gap that new teaching graduates can fill.
A survey by the Organisation for Economic Co-operation and Development (OECD) in 2018 found that 45 per cent of teachers aged 50 years and over had plans to retire or leave the role within five years. Without new teachers to take their place, this staff shortage will only become worse as the population continues to age.
Lack of graduate teachers
According to a report commissioned by the NSW Teachers Federation, the completion rate for undergraduate teaching studies is around 60 per cent. This means that less than 40 per cent of students who start these courses will become qualified teachers, and it's a continuing downward trend in Australia.
The Teacher Workforce Shortages paper also showed that initial teacher education (ITU) commencements declined by eight per cent between 2017 and 2020. These partnerships between schools and universities gave teaching students a chance to see what a day in the life of a primary teacher was like. Still, unfortunately, the rate of participants has dropped.
While there's no single cause to blame for classroom staff shortages, the solution is clear: we need more qualified teachers.
How a Master of Teaching (Primary Education) can help
This shortage of qualified teachers in Australia means there has never been a greater need for new ones to take their place. Completing a Master of Teaching (Primary Education) online will make you an ideal candidate.
Becoming a qualified primary teacher will ensure that our students have a competent educator guiding them through their formative years at school. And by taking your studies online, you'll have greater flexibility, which will strengthen your chances of completing your education and sooner allow you to begin your profession.
The federal Labor Government is also working to lessen the impact of these staff shortages. They are introducing initiatives that harness the existing teaching workforce and attract new teachers to the career. These include annual bursaries for regional, indigenous and high-performing students of up to $10,000 a year if approved.
The program also hopes to entice high-performing professionals like scientists and mathematicians to retrain as teachers to provide specialist lessons in schools.
The future generation of Australians need competent educators in the classroom to teach, mentor and guide them through primary school. These students will become Australia's future workforce and leaders, so ensuring they have a chance at a quality education needs to be a top priority.
As a registered teacher, you can help bring this future to life.
Completing a Master of Teaching (Primary Education) online is the best pathway to becoming a registered teacher and educating students in primary schools across Australia. In less than three years, you'll be school ready and equipped to teach in diverse classrooms.
The Master of Teaching (Primary Education) pathway
A Master of Teaching (Primary Education) is the best way to become a teacher in Australia and start your new career. Before you enrol, check out the answers to these commonly asked questions about the course and its outcomes to see if it's right for you.
What does a Master of Teaching (Primary Education) get you?
A masters degree qualifies you to teach all grades in a primary school, from Prep to Year 6. Having a Master of Teaching (Primary Education) also gives you transferable skills that you can use for employment opportunities in primary schools around the world and in regional, rural and metropolitan areas of Australia. VU's online Master of Teaching (Primary Education) is accredited by the Victoria Institute of Teaching (VIT), which means graduates will be eligible for registration to teach in the whole of Australia.
The course covers units including Language and Literacy in the Primary Years, Engaging with the Profession, and Indigenous Perspectives in Learning and Teaching.
Every student completes 65 days of classroom placement and online studies. This gives them real-world experience in a classroom and hands-on learning that will show them how to become a primary school teacher.
How long does a Master of Teaching (Primary Education) take?
The standard length for a Master of Teaching (Primary Education) in Australia is two years full-time or four years part-time. However, VU Online's award-winning postgraduate Block Model allows you to complete your studies in as little as two years and eight months part-time.
The course is delivered one unit at a time to give you a better chance at success. Students can complete six units in a year if they want to follow the accelerated program. This includes a four-week break from December to January and a one-week break in between study periods.
How much does a Master of Teaching (Primary Education) cost?
A Master of Teaching (Primary Education) costs $41,6000 when you study with VU Online.
Each unit in the course costs $2,550, and some units are double weighted, so their fees are adjusted accordingly. Eligible students can receive federal FEE-HELP assistance to pay for the course if needed.
Study online for a better future
VU Online's postgraduate Block Model is a modern and innovative educational path for tomorrow's teachers. Completing the online course will enable you to become a registered primary teacher and be the solution that Australian classrooms and our children need.
If you want to learn more about a career in teaching and what the VU Online Master of Teaching (Primary Education) can give you, we can help.
Speak to a Student Enrolment Advisor today and find a flexible learning path that works for you, or check out the course page  for more information.