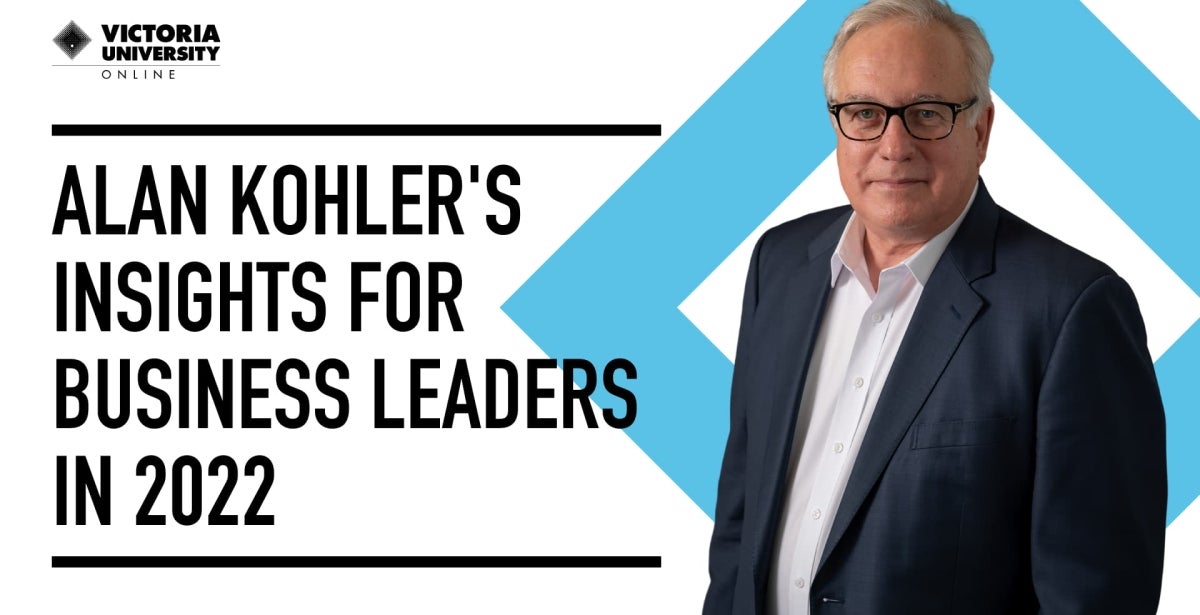 Alan Kohler's Insights for Business Leaders in 2022
Alan Kohler has been a financial journalist for over 50 years. In that time, he's followed stockbrokers from the open outcry of exchange trading floors to comparatively quiet online trading systems via multi-screen platforms.
Familiar to ABC TV News audiences across Australia with his regular Kohler Report, he's also been analysing businesses for investors since 2005 when he founded the Eureka Report.
Kohler's preferred method of learning about a business is to interview its CEO. He usually interviews three or four every week – and speaks to a lot more in between. From Atlassian's Mike Cannon-Brookes to Afterpay's Nick Molnar, he's asked entrepreneurs, business owners and senior executives how much cash they have, why they did what they've done, and what they are going to do next.
These are Alan Kohler's key insights for business leaders in 2022.
Leaders need to be attuned to contemporary issues
For a long time, the main responsibility for business leaders was to create income for shareholders or owners. While profit making initiatives are still important, the issues around how that happens are increasingly drawing more attention.
"Various aspects of Environmental, Social and Governance (ESG) are becoming so important: climate change, environment, social, dealing with the community and governance – in particular dealing with minorities," says Kohler.
Business leaders must have the ability to incorporate contemporary corporate responsibility and sustainable development goals in their business decision-making.
"I think those are now very important issues that I think a lot of business leaders have some difficulty with and they need to be on it."
While ESG issues also impact staff on many levels, another contemporary issue to be attuned to is the emergence of a dynamic and fluid workplace and its impact on employees.
"A lot of people are now going to work from home – all the time or partly from home, partly from the office.
"I think that is going to bring a lot of challenges for leaders because you need to maintain a business culture while not necessarily having everyone in the office," says Kohler.
Skills needed to be a leader in 2022
There's no doubt that the skills needed to be a leader in 2022 are quite different to the skills of business leaders of the last decade – or even the last five years.
"Having people further apart, making sure that there's a safe workplace, ESG issues – I think all of those things are tremendously important now, but they're new," says Kohler.
"They're new skills that business leaders have to develop."
So what are leadership skills? And which ones does Kohler think are most important for leaders in 2022?
Change management
"I think that when we talk about change management we usually mean when somebody has to come into a company and change it a lot – a big once-off change. As a leader, your job is to take staff with you through a journey of change at a particular point in time," says Kohler.
As you might suspect, large projects like digital transformation are not the only type of change management that Kohler's talking about.
"There's also the change that is constant. You need to be able to constantly take your people with you on a journey all the time, because life is changing all the time.
"Change is a constant now and it's not just a change in the business environment; there's changes to the social environment, changes to the way we're governed."
It's the nonstop nature of change management that makes it one of the key leadership skills in Kohler's eyes.
"I think that change management is a tremendously important skill for business leaders because it's continuous."
Adaptability
We used to define adaptability in individual terms, as our ability to respond to changing conditions that affected us personally – but then the pandemic happened.
"I do think that COVID-19 has been a bit of a wakeup call for business leaders to be more adaptable ­– to show that they can't assume that things will not change, that you never know what's around the corner," says Kohler.
When everybody must respond to the same change, adaptability reveals itself to be one of the most important skills leaders need.
"Some businesses have found that their customers are not there anymore, and they have to rely on government support," says Kohler.
"Retailers have found that their customers have suddenly gone online because they're not coming in the shop. They suddenly needed to switch to online.
"A lot of businesses found that for 18 months, their workers weren't in the office, their staff were at home, and they were meeting on Zoom."
Adaptability is really the ability to adjust to different circumstances without diminishing your other leadership skills. In that context, adaptability can be considered as a quality that supercharges all other leadership abilities.
Finance and cash management
If your business leadership career ever puts you in a position where you're about to be interviewed by Alan Kohler, make sure you're across all your financial metrics.
"I interview a lot of CEOs in my job – three or four CEOs per week, and I always start my interviews asking them about their cash flow," says Kohler.
"What is the cash flow? How much have you got in the bank? Are you cash positive? Are you not cash positive?"
These questions see through business strategy to quickly highlight how a business leader is handling their finance and cash management.
"In most businesses, yes, you have to have the correct P&L (Profit & Loss Statement) and balance sheet for accounting standards and so on, but what really matters is cash."
In short, you don't need data science or artificial intelligence for this business skill – the chief data for competitive advantage is cash.
"That's the financial skillset that's required for business people. It's not terribly complicated, it's not rocket science, but you just need to be on it."
Understanding the economic environment
Alan Kohler explains that it's essential for business leaders to understand economics in two ways – microeconomics and macroeconomics.
"It's important for a business leader to understand the economic environment in which they're operating. You don't want to be in a situation where when I go on the TV news at night and talk about what's going on in the economy your eyes glaze over.
"You want to be in the situation where you get it, you understand what the situation is," says Kohler.
The good news is that you don't need to be heading up a business on the ASX200 or have access to privileged information to start understanding the economic environment.
"You can actually go onto the Australian Bureau of Statistics (ABS) website and you can read the announcements about Gross Domestic Product (GDP) or employment.
"You can see what's going on, you can pick up other economic data and you can actually contextualise it."
In addition to being able to draw leadership insights from the economic environment that they're operating in, business leaders must be able to analyse their own operations in a similar way.
"The other reason that economics is important is because of the basic principles of economics at a micro level, which is supply and demand basically. Microeconomics as it applies to your business."
Enhance your leadership skills with an MBA from VU Online
Business leadership skills can be learned, updated, and enhanced with VU Online's Master of Business Administration (MBA) you can meet contemporary issues head on.
Whether you're in small business, a startup, or aspiring to become a CEO, this MBA has been designed to help you elevate your career or business and achieve your professional goals in a myriad of industries and sectors.
In addition, you can choose a specialisation for your MBA that aligns with your interests and career goals.
Choose a specialised MBA
If Alan Kohler's comments about finance and cash management are ringing in your ears, our MBA (Finance) has been designed to build your financial skillset while developing your knowledge and confidence in the corporate world.
If you want to be able to prepare your organisation for change or respond to a dynamic business environment, our specialisation in Change Management could be for you. As Kohler noted, adaptability is a key skill for anyone wanting to be an effective leader in 2022 and beyond, so this specialisation will allow you to adjust quickly to new business conditions.
But if you want to build a well-rounded business skill set, you can choose to complete your MBA without a specialisation. This option allows you expand your knowledge in areas such as leadership, business strategy, entrepreneurship and more.
Excel with VU Online's postgraduate Block Model
All of these postgraduate study options are flexible, 100% online and benefit from the VU Online postgraduate Block Model. Our innovative online postgraduate Block Model breaks the study year into six study blocks, so you can focus on one unit at a time, while completing six units a year.
You'll also receive one-on-one support, seven days a week in the evenings, from our specially designed support network. Connect with engaged academics, your dedicated Student Success Advisor and your peers through VU Collaborate, our seamless, community-focused platform.
Ready to take the next step? Reach out to our student Enrolment Advisors on 1300 682 051 or email futurestudy@online.vu.edu.au.