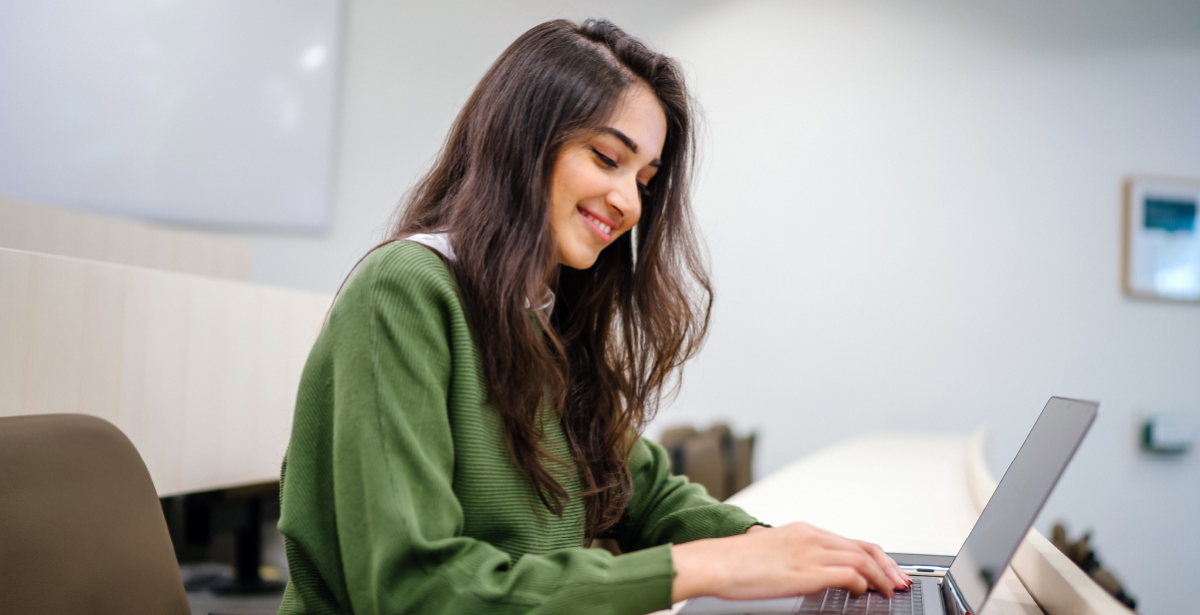 Women Find Advancement Through MBAs
Attaining a Master of Business Administration (MBA) can be an effective way to advance a career. But women, in particular, have been uniquely compelled to earn this ambitious degree in recent years. Considering the recent increase in the number of women enrolling in MBA programs, we examined their motivations for enrolling in this advanced degree, the hurdles they've encountered, and the outcomes they've experienced.
Key Takeaways
After receiving an MBA,
1 in 4 women were promoted to manager.

Among all women who earned their MBA, the average salary increase was $38,056.

78% of women would recommend getting an MBA to other women.
Bridging the Gap
While there's been significant progress in the number of women pursuing MBAs, they still make up less than half of the MBA student population (only 41%). To find out what issues might still hold them back, we recently polled over 400 women who had earned or planned to earn an MBA. Keep reading to learn more about why female enrollment is increasing and the challenges and rewards of MBA programs for women.
Ambition for Administration
Studying for an MBA can be a significant investment of time and effort. We began our study by asking women why they pursued this higher degree. Here's a look at what encouraged them to follow this path.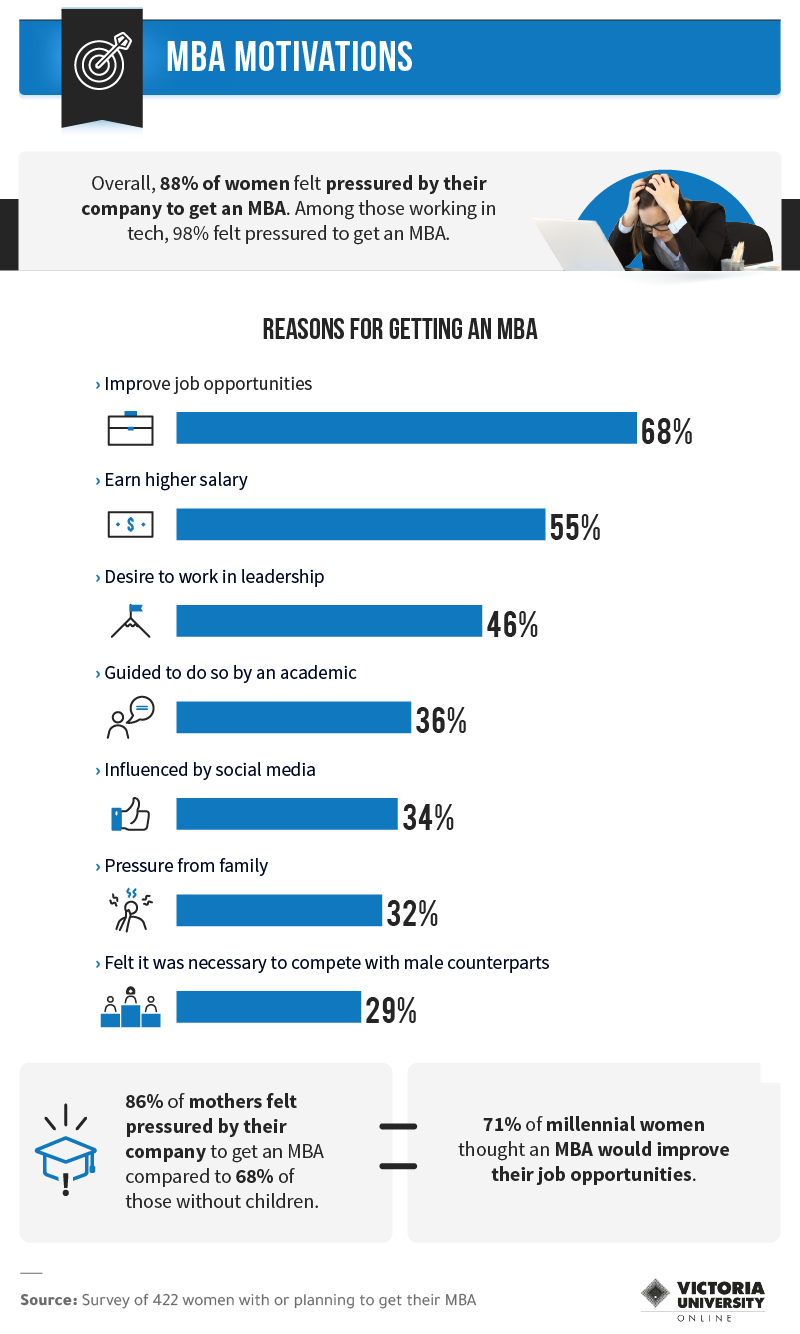 MBA Motivations
Overall, 88% of women felt pressured by their company to get an MBA. Among those working in tech, 98% felt pressured to get an MBA.
Reasons for Getting an MBA
Improve job opportunities: 68%
Earn higher salary: 55%
Desire to work in leadership: 46%
Guided to do so by an academic: 36%
Influenced by social media: 34%
Pressure from family: 32%
Felt it was necessary to compete with male counterparts: 29%
86% of mothers felt pressured by their company to get an MBA comparted to 68% of those without children.
71% of millennial women thought an MBA would improve their job opportunities.
Source: Survey of 422 women with or planning to get their MBA.
Overall, most women chose an MBA program to get better job opportunities, a higher salary, or a leadership position. But others said their motivations were more nuanced, revealing that external pressures had persuaded them, such as influence from academics, social media and family. And even though it was the least common motivating factor, almost one-third of respondents thought they needed an MBA to compete with male colleagues.
When asked about feeling pressured by their company to get an MBA, 88% of women felt the heat, and for the ones working in the tech industry, this number jumped to 98%. With such a comparatively large number of men working in tech, it makes sense that women in the field might feel a greater need to pursue a master's degree to compete. After all, having an MBA can advance tech careers, increase confidence, and improve business and analytical skills.
Additionally, we found an imbalance in the workplace between women who have kids and those who don't. Our research showed that 86% of working mothers felt pressured by their company to pursue an MBA compared to only 68% of employees without children. Considering the preconceptions about juggling motherhood and a career, working mothers likely wanted to show employers their dedication to the job regardless of their parenting status. They might also have felt driven by the career opportunities an MBA degree can provide. However for many, choosing to get an MBA was the easy part; deciding where to get it took much more consideration. 
Finding the Perfect Program
The characteristics that make up a good MBA program are different for everyone. The women we surveyed shared what they valued most when looking at universities and the courses they were most interested in taking.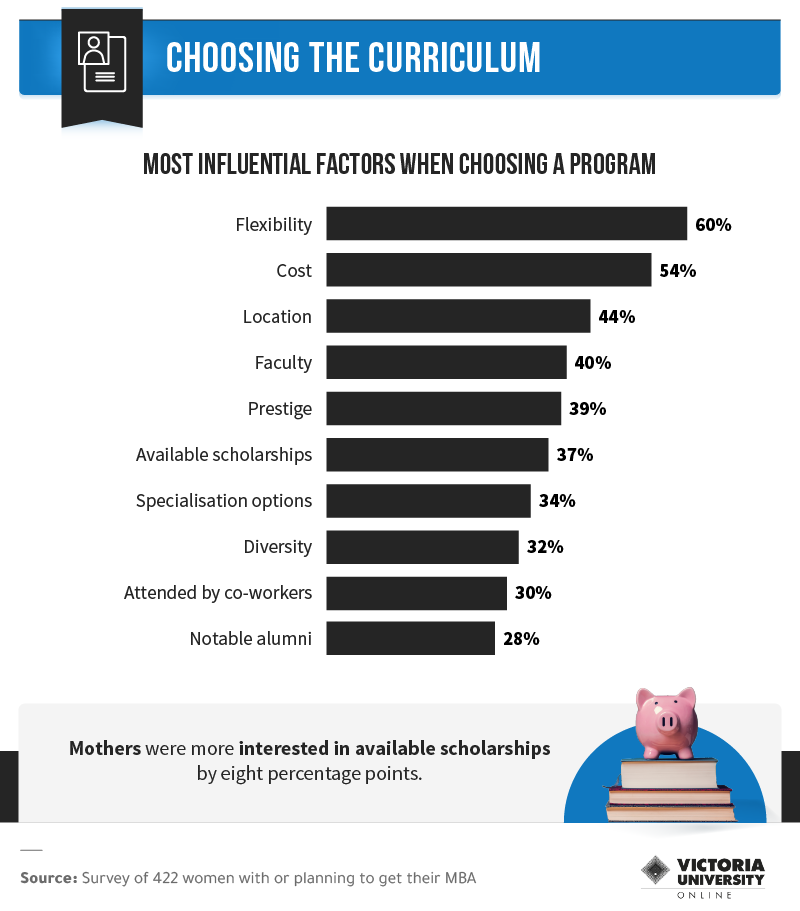 Choosing the curriculum
Most Influential Factors When Choosing a Program
Flexibility: 60%
Cost: 54%
Location: 44%
Faculty: 40%
Prestige: 39%
Available scholarships: 37%
Specialisation options: 34%
Diversity: 32%
Attended by co-workers: 30%
Notable alumni: 28%
Mothers were more interested in available scholarships by eight percentage points.
The decision to get an MBA is one thing, but committing to a specific program can be an intimidating process. When asked about the most crucial aspects of a program, flexibility and cost took precedent. One MBA graduate told us that MBA programs could better serve women by offering "more financial assistance and flexibility for completing classwork assignments." These aspects were essential to mothers: women with children were 8% more interested in scholarship opportunities than those without children.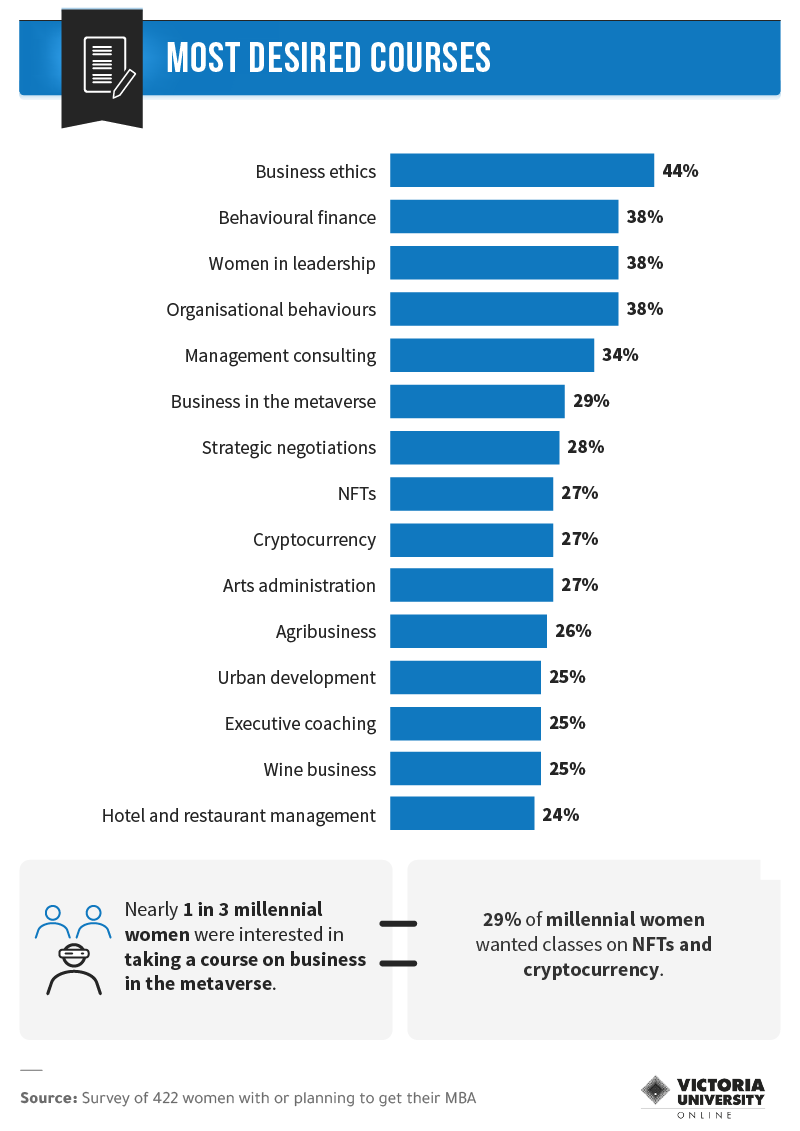 Most desired courses
Business ethics: 44%
Behavioural finance: 38%
Women in leadership: 38%
Organisational behaviours: 38%
Management consulting: 34%
Business in the Metaverse: 29%
Strategic negotiations: 28%
NFTs: 27%
Cryptocurrency: 27%
Arts administration: 27%
Agribusiness: 26%
Urban development: 25%
Executive coaching: 25%
Wine business: 25%
Hotel and restaurant management: 24%
Nearly 1 in 3 millennial women were interested in taking a course on business in the metaverse.
29% of millennial women wanted classes on NFTs and cryptocurrency.
Most women desired traditional business classes in terms of curriculum, but some were more interested in learning about cutting-edge tech trends. Millennials, in particular, were interested in these new courses, with 32% of them wanting to learn about business in the metaverse, and 29% wanting to learn about both NFTs and cryptocurrency. Courses about crypto can help women actively participate in a rising industry calling for more knowledge and expertise. 
Choosing a program where they will feel represented was also a high priority. A female MBA graduate working in healthcare shared with us that MBA programs can serve women better by employing women and minority professors. These women need an inclusive learning environment that makes them feel understood and meets their unique needs. 
Inept Institutions
Unfortunately, many female students had desires that didn't come to fruition in a real-life program. Women in graduate studies often have a number of responsibilities outside of their MBA program, such as full-time jobs, childcare and housework. Most of the women we surveyed found their program lacking in accommodations for their commitments outside of study.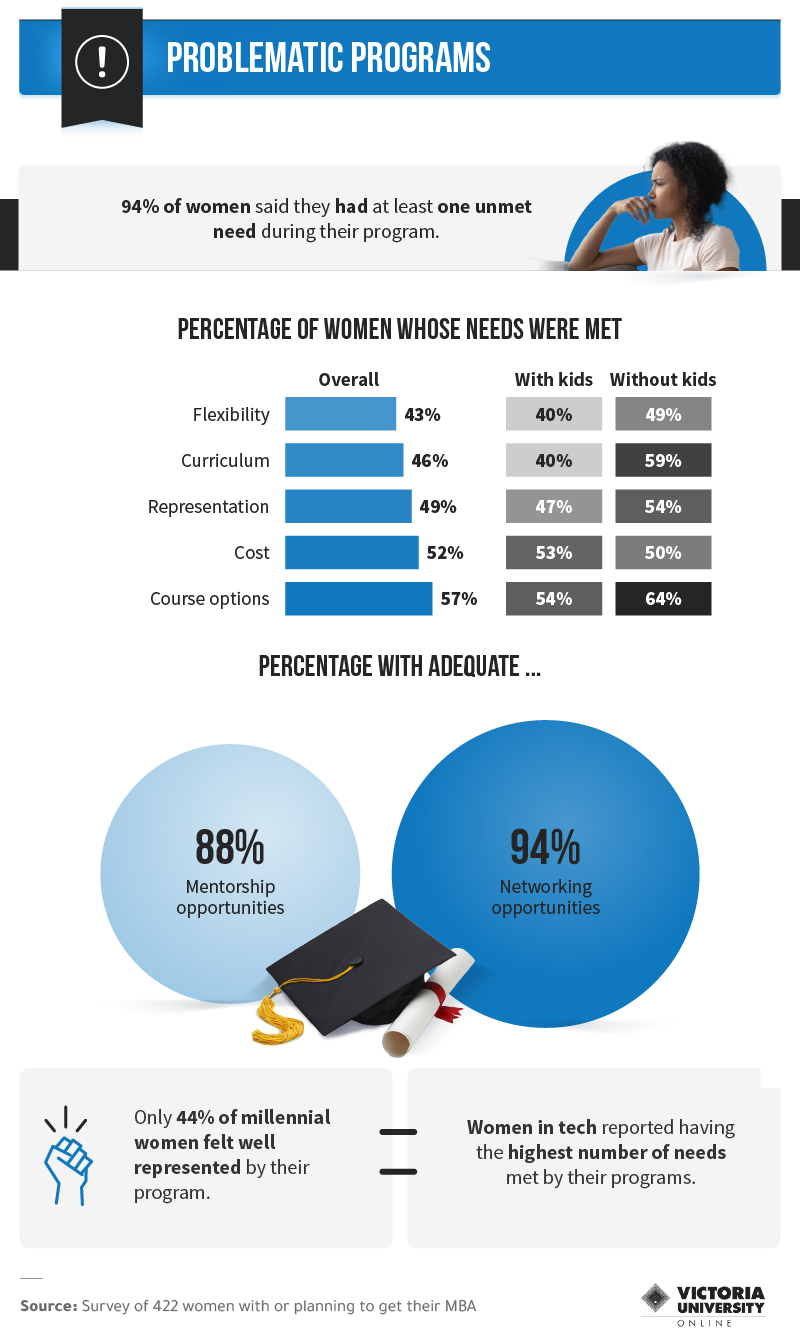 Problematic Programs
94% of women said they had at least one unmet need during their program.
Percentage of women whose needs were met:
Flexibility - Overall: 43%, with kids: 40%, without kids: 49%
Curriculum - Overall: 46%, with kids: 40%, without kids: 59%
Representation - Overall: 49%, with kids: 47%, without kids: 54%
Cost - Overall: 52%, with kids: 53%, without kids: 50%
Course options - Overall: 57%, with kids: 54%, without kids: 64%
Percentage with adequate
Mentorship opportunities: 88%
Networking opportunities: 94%
Only 44% of millennial women felt well represented by their program.
Women in tech reported having the highest number of needs met by their programs.
We can't ignore the struggle of attending MBA classes on top of a busy schedule. It can be especially hard for mothers and women who can't afford to cut back their work hours. 
Though many of the women we spoke to were eager for programs to deliver on flexibility and course relevance, 94% said they had at least one unmet need during their program. Specifically, 57% said their program failed to meet their flexibility needs. Diversity also remains a significant issue for women and one that millennials seemed to suffer the most: Only 44% felt well represented by their MBA program.
On a more positive note, most respondents also reported that their programs provided adequate mentorship and networking opportunities. This finding is promising, since MBA networking opportunities can also be very beneficial. Fostering the right relationship at the right time can provide access to career advancements in the future.
Levelling Up
Now that we've hashed out the positive and negative experiences women have had with MBA programs, let's look at how completing these degrees impacted our respondents' careers.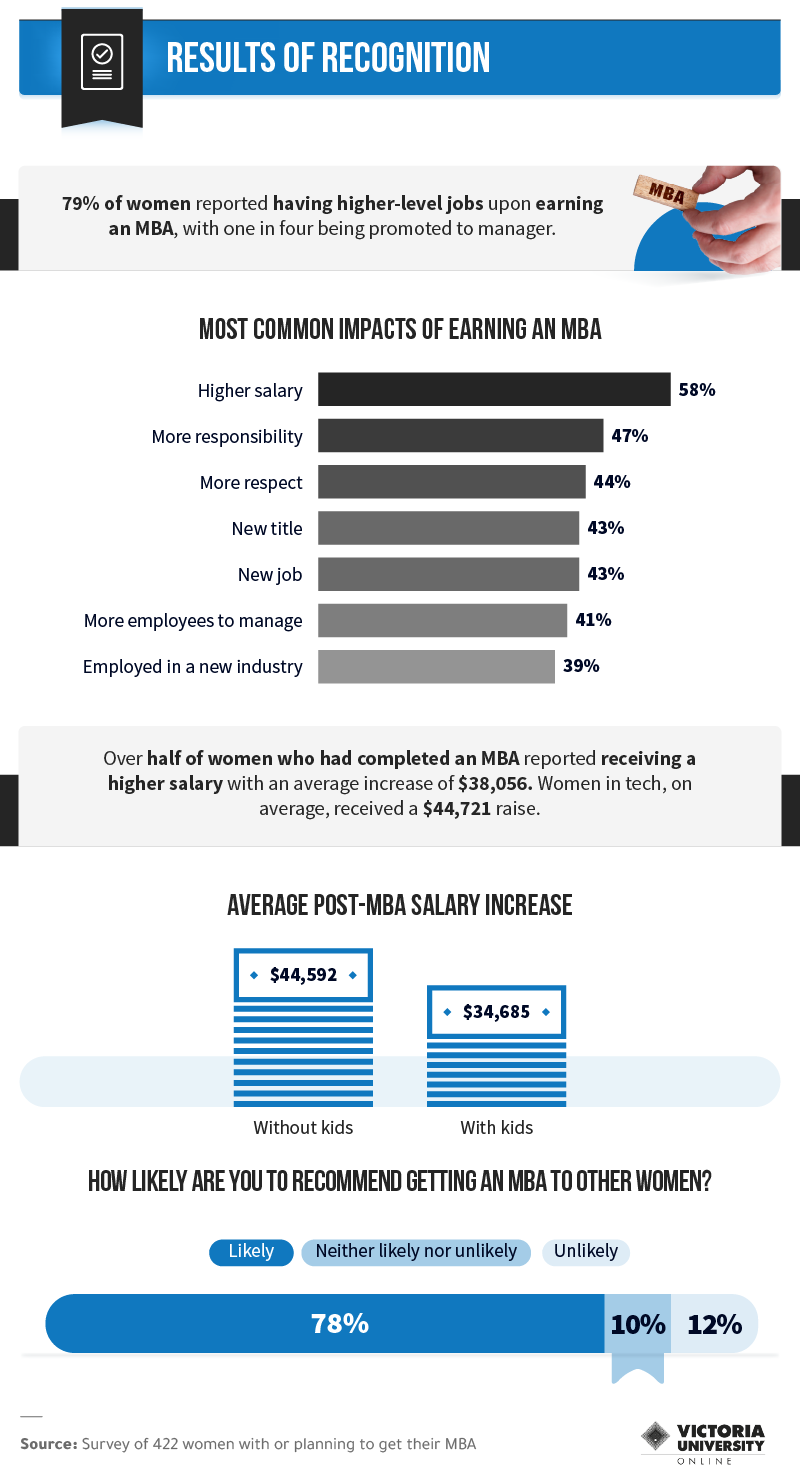 Results of Recognition
79% of women reported having higher-level jobs upon earning an MBA, with one in four being promoted to manager.
Most common impacts of earning an MBA
Higher salary: 58%
More responsibility: 47%
More respect: 44%
New title: 43%
New job: 43%
More employees to manage: 41%
Employed in a new industry: 39%
Over half of women who had completed an MBA reported receiving a higher salary with an average increase of $38,056. Women in tech, on average, received a $44,721 raise.
Average post-MBA salary increase:
Without kids: $44,592
With kids: $34,685
How likely are you to recommend getting an MBA to other women?
Likely: 78%
Neither likely not unlikely: 10%
Unlikely: 12%
Earning an MBA resulted in many positive outcomes, including higher-level jobs (reported by 79%) and salary increases (reported by 58%). These were the most common impacts on women's careers post-MBA. One in four women received a promotion to a management position – another cause for celebration!
Women remain underrepresented as managers, and they've also been paid less than their male counterparts for far too long. Among mothers who got MBAs, 35% had earned theirs in the past three years, and 43% of those women received a title change afterwards. Sadly, women working in tech felt the most pressure, and less than half of them received a higher salary post-MBA, while 52% said they were assigned more responsibilities. 
Though many participants pursued an MBA to excel in their current job, others were looking to switch to a different role. Armed with new skills and more professional connections, 43% of the women we surveyed were able to change jobs as a result of getting their MBA.
Unfortunately, we also discovered some negative experiences among women who earned MBAs. While 63% of women without kids received a raise, only 55% of mothers said the same. Furthermore, salary raises for women without kids were almost $10,000 higher than those for working mothers. In addition, women who didn't have their curriculum needs met by their program were very unlikely to recommend earning an MBA to other women.
Finding the Best Fit
More women than ever before are choosing to enrol in MBA programs today, showing that they're working to improve their careers and financial opportunities. The increase in women seeking advanced degrees to excel in male-dominated industries, particularly tech, is even more promising. Of the women we surveyed, 55% wanted a higher salary, and 58% got it — a big step toward equalizing the wage gap between men and women in business.
However, getting an MBA is not the whole solution. Sixty per cent of the women who participated in an MBA program desired flexibility, but only about 43% received it. Despite some disappointments with unmet needs, most women would recommend an MBA to others.
There's room for universities to improve their MBA programs to meet women's needs better. We hope that this new knowledge about women and MBA programs can help women continue advancing in male-dominated fields and achieve gender equality in wages and leadership roles overall. 
Take your career to the next level with a flexible MBA from VU Online
If you are looking for a way to juggle postgraduate study with all of your other commitments, our 100% online MBA could be for you. 
In addition to the standard MBA, we offer specialisations in Finance and Change Management, so you can tailor your education to fit your interests. 
VU Online's Postgraduate Block Model allows you to study one unit at a time over each seven-week study period. This means you can study part-time and complete as many as six units per year, and finish your MBA in as little as two years.
You'll also receive one-on-one academic support, seven days a week in the evenings, from our specially designed support network. Connect with engaged academics, your dedicated Student Success Advisor and your peers through VU Collaborate, our seamless, community-focused platform.
Ready to take the next step? Reach out to our Student Enrolment Advisors on 1300 682 051 or email futurestudy@online.vu.edu.au.
Methodology
We surveyed 422 women using Amazon Mechanical Turk and Prolific: 66% had already earned an MBA, and 34% were planning to get it in the future. For numerical, open-ended response questions, outliers were removed. Additionally, respondents were required to answer an attention check question to prove they were taking our survey seriously. Self-reporting may cause some limitations, such as telescoping, selective memory, or exaggeration.
Fair Use Statement
If you'd love to forward this article to any ambitious women in your life or former co-workers who are doing great things, we encourage you to do so. All we ask is that you're sending it for noncommercial use and that you include a link back to the original page.