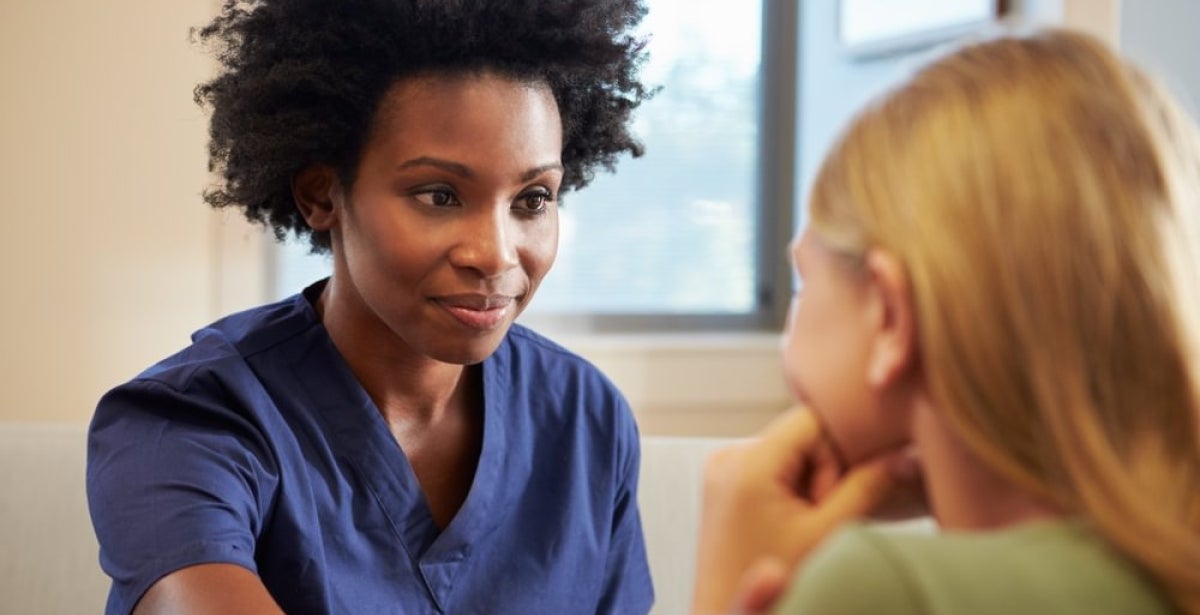 What Does a Mental Health Nurse Do?
Almost half of all Australians will suffer from mental illness at some point in their lives. The COVID-19 pandemic played a significant part in shining a light on issues such as mental health in early childhood. This increased societal awareness means mental health services need committed and dedicated professionals like never before.
If you're considering how to become a mental health worker, it is wise to first get an understanding of the types of mental health worker roles. A rewarding and challenging mental health support role is that of a mental health nurse.
What to expect from a mental health nursing career
As a mental health nurse, you will provide holistic care that looks at the needs of the patient within the context of their circumstances and other care. You will use your skills, knowledge and experience to support a wide range of patients in a variety of contexts.
What can mental health nurses do?
As varied as the settings are that a mental health nurse can work in, so, too, are the responsibilities of the role. As a mental health nurse, your responsibilities may include:
Mental health promotion and education
Patient assessment
Patient record management
Treatment, including counselling and psychotherapy
Working alongside other healthcare professionals to coordinate patient care
Providing support to patients and their families
Visiting patients at home
Administering medication
Where can mental health nurses work?
As a mental health nurse, you might work in a range of different healthcare settings. This may include emergency care or a mental health unit within a hospital or in specialised psychiatric care hospitals. There are also opportunities for mental health nurses to work in community health services and other facilities such as in aged care homes.
Beyond these clinical settings, mental health nurses can also pursue a career in education or research.
What kind of skills and qualifications do mental health nurses need?
To become a mental health nurse, you must be a registered nurse and then complete a specialised mental health qualification. Given the diverse nature of this career, a large part of the role is also general nursing care for your patients.
You will also need a number of attributes in order to succeed as a mental health nurse. The ability to stay calm in a crisis and adaptable in a fast-paced environment is essential. Other skills mental health nurses need include:
Empathy
Compassion
Problem-solving
Strong communication
How much does a mental health nurse make?
The median annual salary for a mental health nurse in Australia is approximately $97,891. As with any job, this can vary, depending on the seniority and location of the position. More experienced workers can make up to $118,839 per year. But beyond financial compensation, this can be an extremely rewarding career.
Why choose mental health nursing as a career
This is your opportunity to make a difference. You can be part of the shift towards more person-centred care and drive positive outcomes for your patients. You can contribute to the solution of how to improve mental health in the elderly. Or you can work at the forefront of mental health prevention and education.
Working in the system, you can help to reduce the stigma around mental health and ensure that patients get the treatment they need, when they need it.
Mental health nursing is a rewarding and challenging career. Every day you can meet new people and learn new things as you help vulnerable patients with their treatment.
The impact of COVID-19 on mental health in Australia
According to research into the impacts of COVID-19 on the mental health of Australians, access to various services increased from previous years. Calls to Lifeline, Kids Helpline and Beyond Blue all saw significant increases. Also, between 16 March 2020 and 9 January 2022, almost 25 million mental health-related services were processed by Medicare.
The landscape of mental health services in Australia is changing. In recognition of the prevalence of mental health issues and the ongoing impact of COVID-19, the federal government has committed more funding to the industry.
The Australian government is focusing on the mental health sector
This increase in funding was also in response to the Productivity Commission Mental Health Inquiry. The inquiry recommended reforms to the mental health system to create a more holistic and person-centred approach. The inquiry also placed an emphasis on early intervention as well as prevention.
Some of the federal funding has been earmarked for growing, upskilling and supporting the mental health workforce. With the growing demand for mental health services and government investment, mental health nursing is a career with high job security. However, when choosing a career, job security is only one element.
How to become a mental health nurse in Australia
To train as a mental health nurse, you'll need to complete a postgraduate course in mental health nursing. VU Online offers a suite of postgraduate mental health nursing courses online. The suite includes a Master of Mental Health Nursing, Graduate Diploma in Mental Health Nursing and Graduate Certificate in Mental Health Nursing, all of which are designed for registered nurses looking to upskill.
These qualifications follow VU Online's postgraduate Block Model. This innovative approach means that you will complete each unit in a seven-week block so you can focus on a single subject at a time. You can immerse yourself in hands-on learning without needing to juggle multiple subjects at a time.
What is a Master of Mental Health Nursing?
The Master of Mental Health Nursing builds on your prior experience and study. You will:
Learn about comprehensive mental health practice
Develop an ability to work within multidisciplinary teams
Gain a holistic understanding of mental health and how it impacts individuals, their families and the wider community
Design and undertake mental health research
Develop the skills to critically review healthcare evidence
The course is grounded in contemporary, trauma-informed care that will enable you to create better mental health outcomes for your patients.
In the context of modern Australian society, you will also develop an understanding of mental health nursing practice in diverse communities. This includes refugee communities, LGBTQIA+ as well as Aboriginal and Torres Strait Islander people.
Become a credentialed mental health nurse
The skills you learn through the VU Online Master of Mental Health Nursing are highly specialised. They can be applied across a range of clinical settings. Importantly, they will also help you progress towards credentialing with the Australian College of Mental Health Nurses (ACMHN).​ The program aligns with current policy and the future needs of mental health services in Australia.
Expand your career as a registered nurse
Entry to the Master of Mental Health Nursing requires:
An AQF Level 7 Bachelor of Nursing (or equivalent qualification)
Registration as a Registered Nurse or Midwife and a minimum of one year of full-time clinical experience
Clinical support in a mental health specialty area or written confirmation from your employer that you are employed in a mental health setting
If you don't meet these requirements, you may be able to gain a pathway to the master's degree through the Graduate Certificate in Mental Health Nursing or Graduate Diploma in Mental Health Nursing.
At the end of the qualification, you will have a broad understanding of mental health practice and contexts. From there, you can build a rewarding career in mental health nursing.
Step into your new career as a mental health nurse
Mental health nursing gives you the opportunity to advocate for mental health patients and be part of transforming the mental health system in Australia. It's a rewarding career with various pathways and work settings. A qualification from VU Online is the first step in driving positive impact in this important sector.
Take the first step towards a profession where you will impact people's lives each and every day. Learn more about the Master of Mental Health Nursing.