VU industry and community partnerships deliver an innovative edge
Among the many reasons postgraduate students choose to study with Victoria University (VU) is its strong connections with industry and the community. While completing a higher degree is a significant achievement, 21st-century students know that access to industry knowledge, research insights and community connections can give them an additional competitive edge.
At VU, students benefit from the University's long history of industry and community partnership. In fact, Victoria University has more than 4,000 relationships with industry.
Shannon Ryan, Project Coordinator (Engagement & Government Relations) at Victoria University, says the University's partnerships offer productive and valuable outcomes that align to the broader strategic direction. They also foster an exchange of knowledge and opportunity on both sides.
"Our current partnerships represent genuine and strong, collaboration with industry organisations that reflect VU's Strategic Plan and research focus areas."VU's many established partnerships also help to differentiate VU graduates in the employment market."
Who does VU have partnerships with?
VU's partnerships are many and varied, providing academics and students with the opportunity to engage with, and learn from, practitioners who are leading in their fields. 
In health, VU has a successful partnership with Western Health. This two-way relationship sees VU research feeding directly into clinical practice, care and management across Western Health's numerous hospitals and programs.
A recent announcement from the Victorian State Government has revealed plans to construct a new world-class hospital in Melbourne's west, Footscray Hospital, based at VU's Footscray Park Campus.
Kerry O'Neill is the Program Manager for Footscray University Town at VU and believes the partnership will be instrumental in ensuring that Footscray Hospital, becomes a world-class health and education precinct.
"VU's partnership with Western Health and the [proposed] new health hub will bring about significant improvements for the health and education of all Victorians and will be a game changer in terms of what the University can further offer to its local and international students, staff, and partners."
"The hospital will also be a huge boost for the west of Melbourne, the fastest growing region in Victoria, which needs massive expansion in its health and education facilities."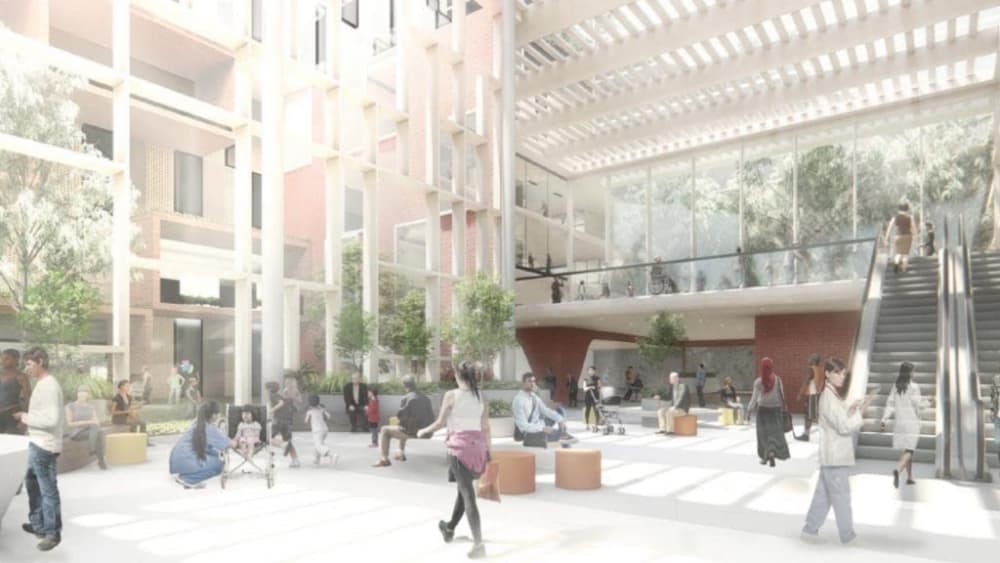 An artist's image of the new Footscray Hospital, to be based at VU's Footscray Park campus.
Meanwhile, in utilities, VU's broad partnership with City West Water – one of Melbourne's three retail water businesses – spans education and research. From water treatment to sustainable water resource management, VU and City West Water collaborate on a number of research projects, and the partnership also offers work-integrated learning opportunities for VU students.
VU also has very strong partnerships with sporting organisations, including:
VU's community partnerships are numerous too, and include the Malthouse Theatre (Australia's leading contemporary theatre company), Footscray University Town (an innovative partnership with Maribyrnong City Council to revitalise Footscray), as well as a wide range of cultural and community engagement projects that focus on the creation and sharing of new knowledge, especially across culturally diverse Australian and overseas communities.
Kerry O'Neill adds: "The Footscray University Town annual program features a number of signature events including the Footscray Art Prize, the Picturing Footscray photographic competition, Gamechanger conversations, and creative and festival partnerships that include One Night in Footscray, West Projections Festival, Jazz Out West, Emerge in the West and Learning on the Edge."
International partnerships
Beyond its many local partnerships, VU has also built a range of international relationships – with institutions and industry groups across the globe. These partnerships provide many benefits to students, the community and the world by facilitating joint research opportunities as well as the international exchange of ideas.
Many of VU's collaborative international research projects focus on delivering evidence-based solutions to contemporary challenges in our region. VU's partners in this space include the World Health Organisation, the Australia India Education Council, Timor Leste's Universidade Nacional Timor Lorosa and China's National Development and Reform Commissions (NDRC) Energy Research Institute (ERI).
What do VU partnerships mean for postgraduate students?
VU's many partnerships offer valuable outcomes for both the University (its students and colleges) and the partner organisation, including a two-way exchange of knowledge and opportunity. By linking with industry and community, VU academics are able to provide more relevant learning opportunities for postgraduate students.
Thanks to its established partner relationships, VU colleges are also able to regularly bring industry experts in as guest lecturers and presenters. Access to the wisdom of those at the 'coalface' gives VU postgraduate courses an edge.
According to Sharna Naidu, a graduate of VU's Master of Sports Science (Football Performance), "VU's connections and partnerships have…led me to create contacts with professionals in the industry that I can learn from now and into the future."