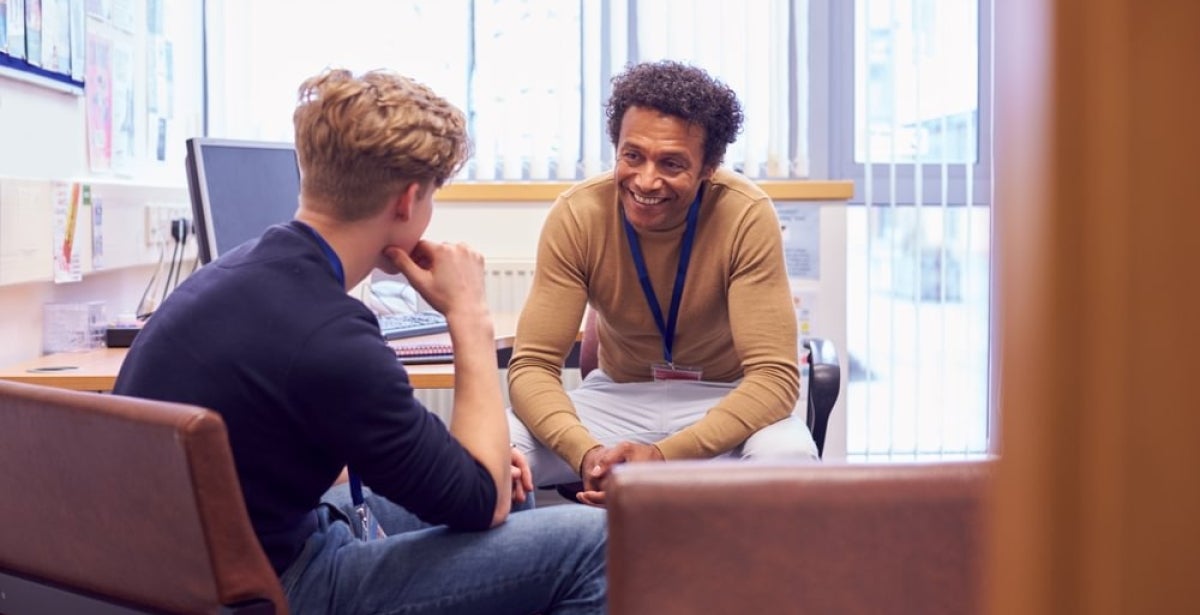 How to Become a Mental Health Worker
There are now more options than ever for aspiring mental health professionals to develop a career in the industry.
This is a topic Associate Professor Christopher Fisher knows a lot about. He is the Academic Course Coordinator and Director of Teaching & Learning for the College of Health and Biomedicine at Victoria University (VU) Online.
With a background in public health, encompassing mental and sexual health, Dr Fisher is well-positioned to advise on how to become a mental health worker.
Dr Fisher has seen an increase in the number of people keen to pursue careers in mental health since the COVID-19 pandemic. Some have become interested in mental health in early childhood after experiences with their own children. Others have a passion for learning how to improve mental health in the elderly.
"COVID really laid bare some of the challenges that people face with mental health," Dr Fisher explains. "This opened a lot of people's eyes to mental health. As people have been thinking about career shifts, they see that this is a helping profession where they really can make a difference in people's lives."
What is a mental health worker?
There is no one definition of a mental health professional. Instead, there are a range of different career pathways that you can pursue if you have the right qualifications and experience.
From social workers to occupational therapists, counsellors, community health workers, psychologists and mental health nurses, the options are diverse.
Dr Fisher explains that a mental health support worker's job description will vary depending on the type of role you are in.
"There are lots of different ways we can address mental health," he says. "A person with a psychology background and clinical training might provide one-on-one services like counselling therapy.
"But then there are people working in organisations that connect people with mental health services. They may be answering the phones and speaking with people who are calling in distress. Or they may be managing broader programs and helping to raise awareness about mental health."
Then there are the mental health professionals working in public policy. These are the people working at a government level to develop policies that support mental health and address ongoing mental health issues in society.
"Obviously, it is important for people to have access to therapy and counselling," explains Dr Fisher. "But you also need to ensure that the infrastructure is there to support that. We need to address the broader systemic issues that impact mental health, such as stigma and discrimination."
Becoming a mental health clinician in Australia
Working in the mental health profession – particularly in the public policy field – is not something you can do without a commitment to making a difference. Skills and experience aside, this is perhaps the most fundamental piece of the puzzle on how to become a mental health worker.
If you are a person who is ready to make that move, it is then a matter of assessing your current skills and qualifications. This will show you what you need to do to bridge the gap between where you are and where you want to be.
In the mental health profession, you need a strong theoretical foundation in mental health. You need to understand how policy works alongside support services and have the awareness to advocate for better mental health outcomes.
You need to be aware of the unique mental health needs of various groups in the mental health sector and know how to respond to them.
Given the diverse nature of the roles in the mental health sector, it is crucial to think about where you see yourself working in the industry. This will play a big factor in the steps you take to become a mental health worker and which avenue of study you should pursue.
How much does a mental health support worker earn?
Earning potential is a big factor in making your decision about which path to take. A mental health support worker salary will vary depending on the type of work you are doing. What you can earn in private practice will be vastly different to your possible earnings in government or the not-for-profit sector.
According to the Federal Government Labour Market Insights [1], these are the average weekly earnings for a:
Policy and Planning Manager: $2831/week
Counsellor: $1652/week
Social Worker: $1736/week
Health and Welfare Services Manager: $2339/week
Interestingly, all of the jobs listed above are predicted to have positive job growth of between 5.7 per cent to 26.5 per cent. That means that these industries are growing and will need more people to join the profession to cater to the demand.
Mental health programs online
VU Online has a variety of postgraduate mental health qualifications online to help you embark on your rewarding career. This includes:
If the public policy side of the industry has piqued your interest, Dr Fisher recommends a Master of Mental Health.
"With the Master of Mental Health, we help people prepare to transition into a new career in mental health. It is also for people who are already working in mental health and want to advance their careers.
"Through the program, we help students expand their approach and thinking about mental health. We get them thinking about all of those different touchpoints across the industry and how the industry works. At the end of the day, we want them to leave feeling empowered to influence and improve the system."
While there are certainly detailed aspects of working one-on-one with clients, Dr Fisher says that this degree is designed to ground students in a range of approaches.
"When you understand the different approaches – for example, community-based, regional or population-based – you can then take that to the next level to influence policy."
The Master of Mental Health equips students with a holistic suite of tools and knowledge to operate at senior policy levels.
For health professionals curious about how to become a mental health worker, our online programs are delivered with VU Online's postgraduate Block Model. This innovative approach means that you focus on one unit at a time, completing it in a seven-week block. This allows you to more easily balance your study and commitments and also focus completely on a single unit at a time.
Make a change in more ways than one
Advance your career and learn how to make a big difference in the mental health industry with VU Online.
Our mental health programs are flexible to help you balance your studies with the other demands of your life and to prepare you for a rewarding and impactful career. Learn more about the online Master of Mental Health and take the first step towards driving positive impact.
Sources