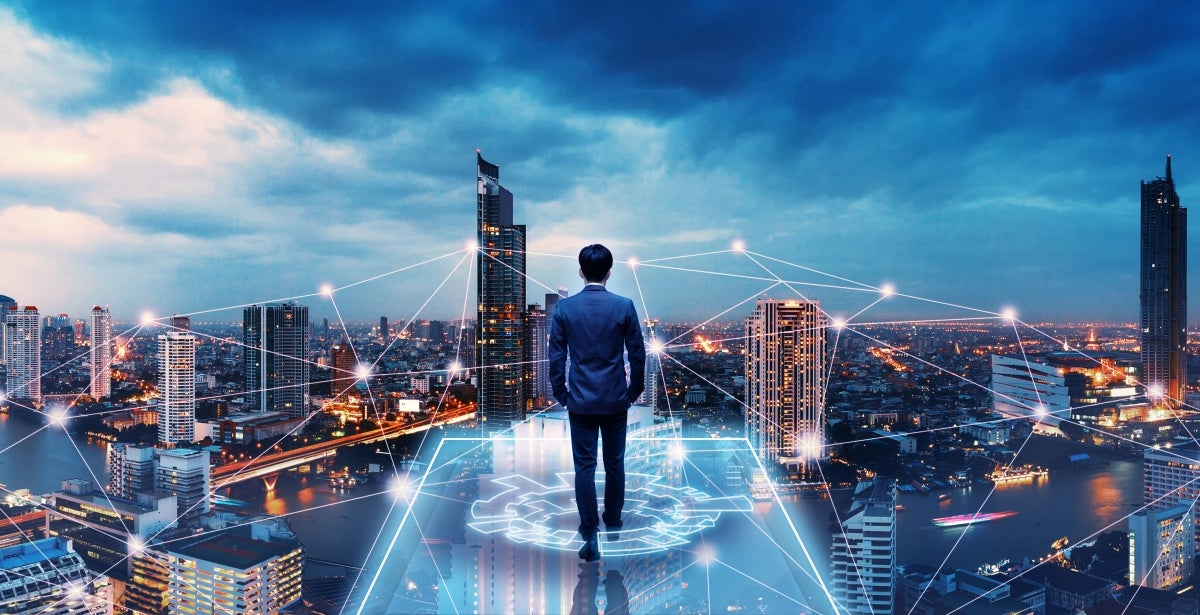 Easiest Countries to Start a Business
Thinking of starting a business? You may want to first consider your location. What country are you in? Are you aware of how easy or difficult it is to start a business in that particular spot? When it comes to fostering entrepreneurial efforts, all countries are not created equal. 
Using 2020 data from the World Bank, we executed a definitive list of the "easiest" countries to start a business in this year, or at least factors that would theoretically contribute to it being easy. Everything from the average days to start a business to how expensive startup costs are as a percentage of per capita income was considered. Of course, it's never "easy" to start a completely new business from the ground up, but some countries certainly make it easier than others. Keep scrolling to find out which those are. 
Acceleration of Startups Worldwide
The study kicked off with a look at the overall easiest countries in which to start a business according to the World Bank's meta score. This gives each country a score between 0 and 100 that averages 41 different regulatory indicators together, such as time and capital requirements and number of procedures. We then selected just one factor – the average number of days to start a business – and compared it against this overall World Bank Score.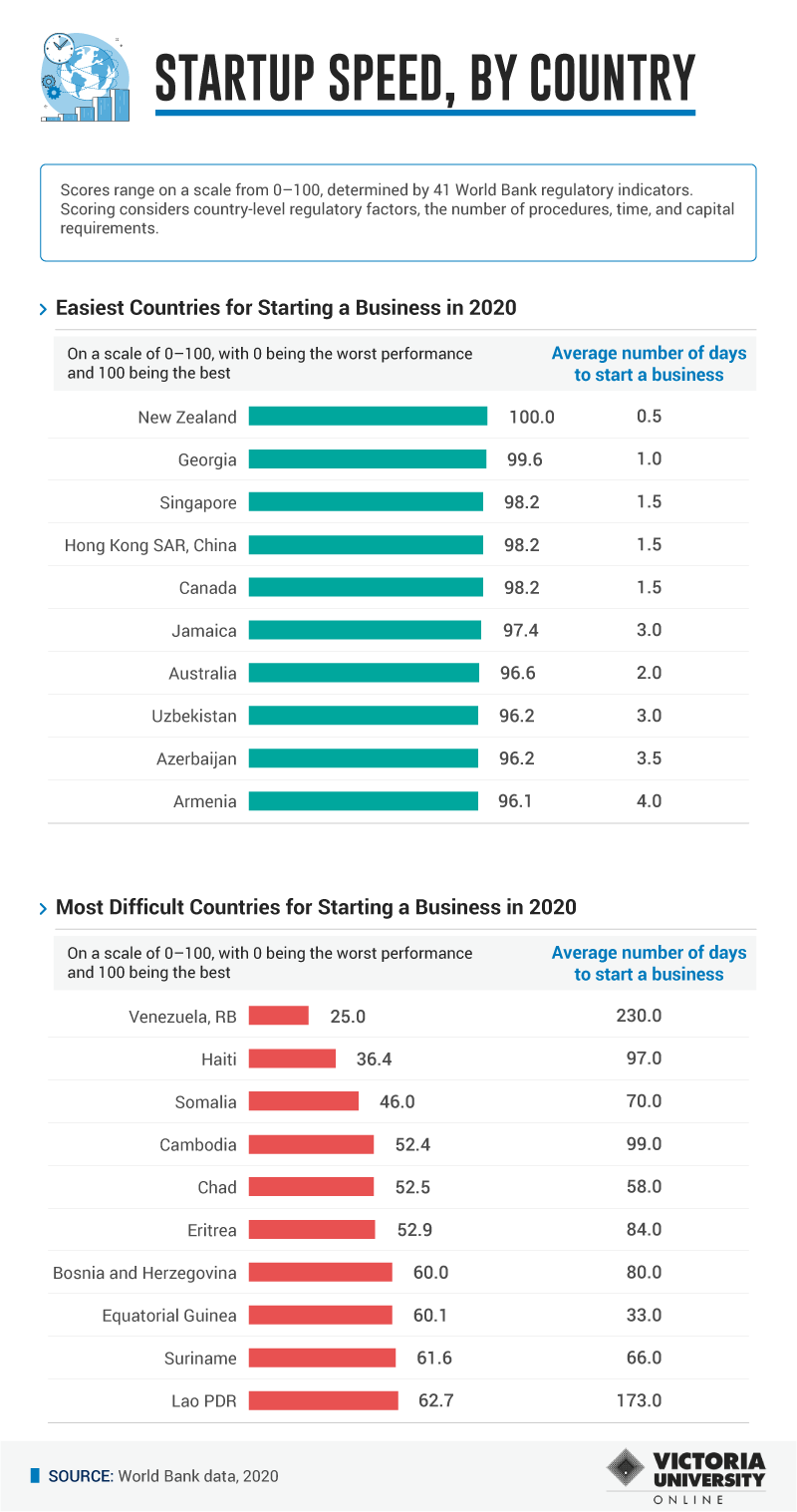 Based on the World Bank meta ranking, New Zealand is the No. 1 easiest country in which to start a business. This sentiment is echoed by the government on New Zealand's website, where plenty of helpful resources, like local authority rules and accountant referrals, encourage other local entrepreneurs to take advantage. On average, it takes just half of one day to start a new business in New Zealand. This country may also currently be easiest to maintain an existing business, as it has received much praise as the "emblematic champion" of how to properly deal with the COVID-19 outbreak, which notoriously destroyed many existing businesses in other countries. 
Singapore and Hong Kong also both earned incredibly high scores (98.2 each) for ease of starting a business internally. In addition to having solid GDP growth and a decreasing inflation rate, Singapore is politically stable and easily lets residents get their business started online. Its citizens are also wealthy, on average, which helps with startup capital. Similarly, Hong Kong's economy has been growing for years, has a highly educated workforce, and has invested great amounts into communication and transportation infrastructure. Both countries average just 1.5 days to get a business incorporated or legitimized. 
The U.S. did not make it into the top 10, or even the top 50, but was instead tied with the Democratic Republic of Congo for 58th place. That said, these two countries received a great score of 91.6 out of 100 and were far better than places like Venezuela, where it currently takes an average of 230 days just to get a business license. Venezuela country scored dead last. Entrepreneurs are likely among the five million Venezuelens who have fled the country due to violent political upheaval and drastically worsening living conditions. 
The next part of the study looks at both deviations and improvements by country since 2010, with regards to how easy or difficult it has become to start a local business.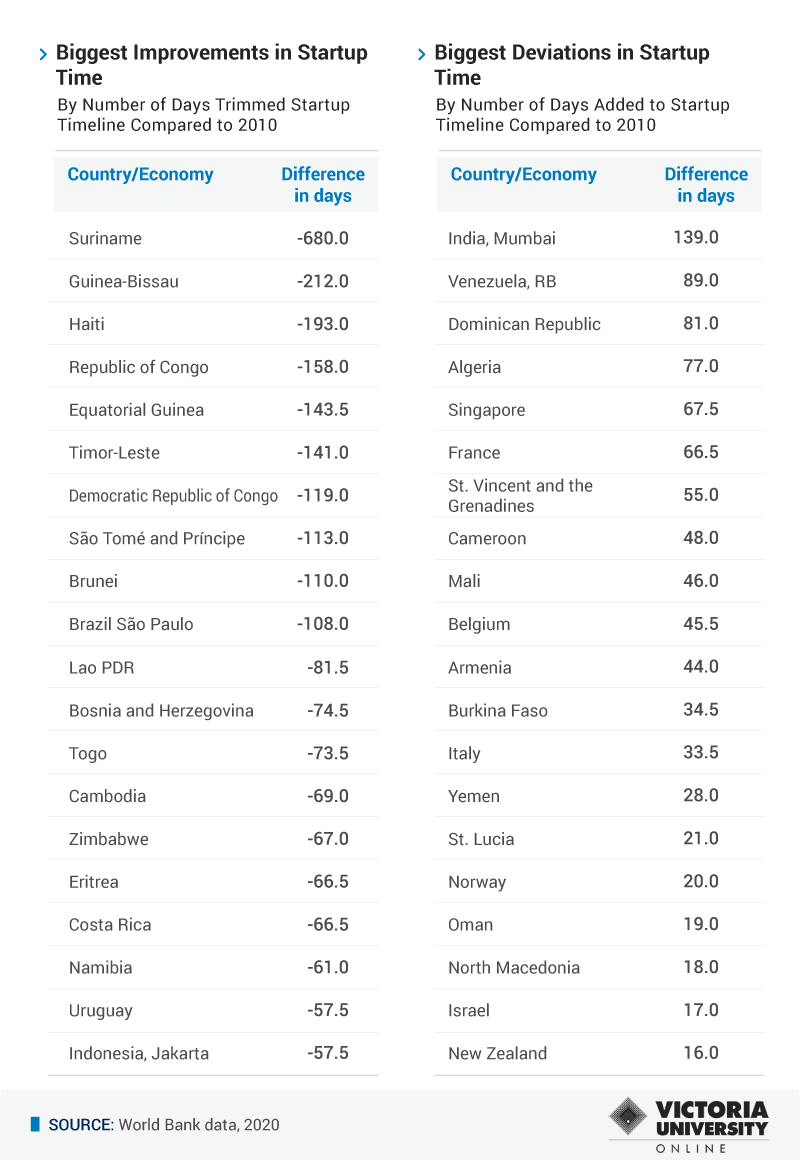 In spite of the hardship Haiti has suffered from climate and natural disaster, they saw one of the biggest improvements in ease of starting a business. Compared to 2010, it now takes 193 fewer days to start a business there. That's more than half a year removed from the waiting time to start a business. Two-fifths of Haiti's economy depend on the agricultural sector and small-scale subsistence farming which remains incredibly vulnerable to damage from their frequent natural disasters, so it's encouraging that new business ideas are taking less time to get off the ground. That said, poverty and low levels of education are still major barriers to overcome on the island nation. 
Venezuela again saw a large change in the number of days to secure a startup, adding 89 days, on average, to start a business entity compared to 2010. Until the violence and political unrest between Maduro and Juan Guaidó quells, the entrepreneurial spirit is unlikely to be fostered here. Instead, basic survival will remain the tragic priority. The only other location to add more time to start a business was India's Mumbai, which is ironically the country's wealthiest city and its capital of commerce. Culturally, India offers a few barriers to business. Although they have a large venture capital community, they are primarily interested in revamping existing ideas as opposed to funding innovation and creativity. Indian entrepreneurs also discuss getting limited support from their families, while the World Bank mentions their slow court processes, miles of red tape, and even difficulty getting electricity in an office as major barriers to local startups. 
The UK had one of the lowest average startup costs as a percentage of their per capita income. Their per capita income was last recorded in 2019 as $43,688 USD, which actually represents 346% over the world's average. By comparison, the U.S. per capita income in 2019 was $65,118, but it costs almost seven times a higher percentage of this larger income to start a business in Los Angeles than it does in the UK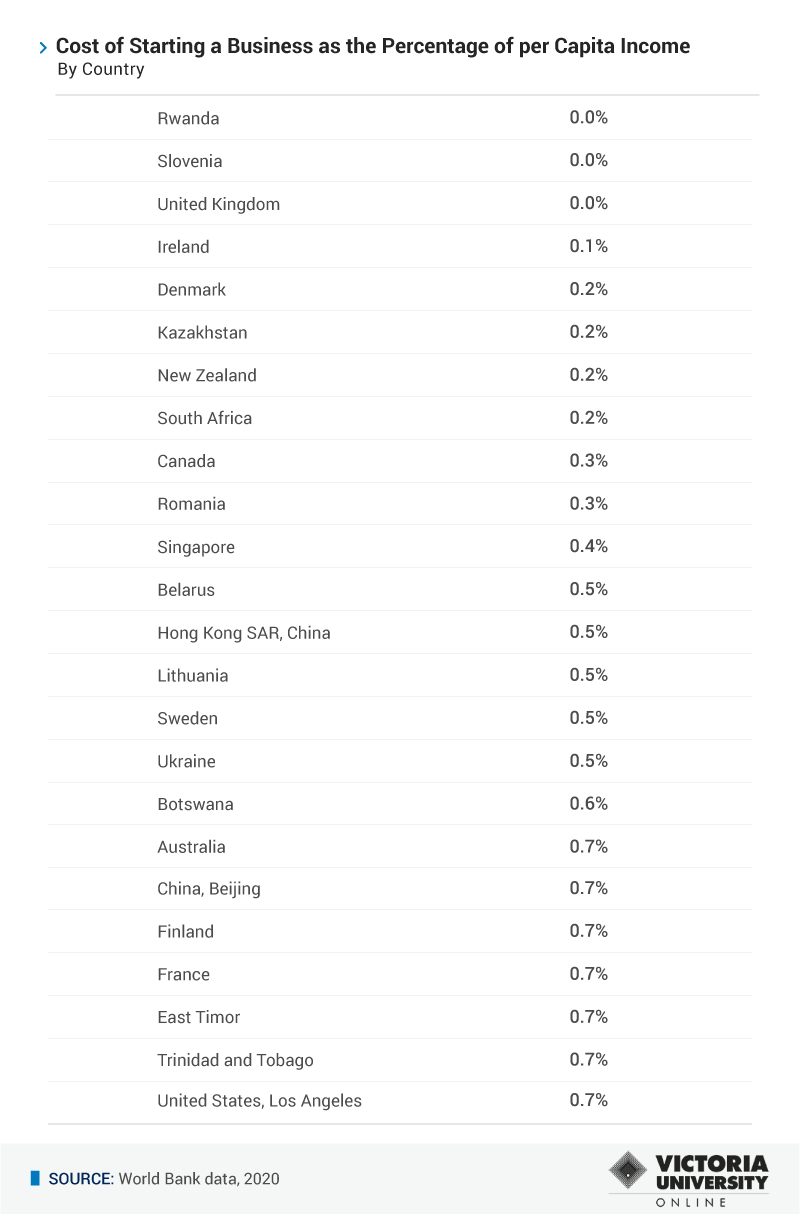 The U.S., however, is noticeably absent from the World Bank's list of easiest countries for business trade across borders. In spite of the country's massive trade deficit, it's relatively difficult to trade with others from within U.S. borders. There's also an escalating trade war between the U.S and China, though the countries heavily rely on each other for goods and services. Instead, countries in the EU dominated the World Bank's list of easiest countries for trade across borders. Countries like Austria, Belgium, France, and Italy all received a perfect score here. That said, international trade may not be something businesses want to rely on indefinitely, as many environmental reports and their proponents are urging for a slowdown in international trade (due to the major carbon emissions it causes) and to return to a more local form of production and commerce.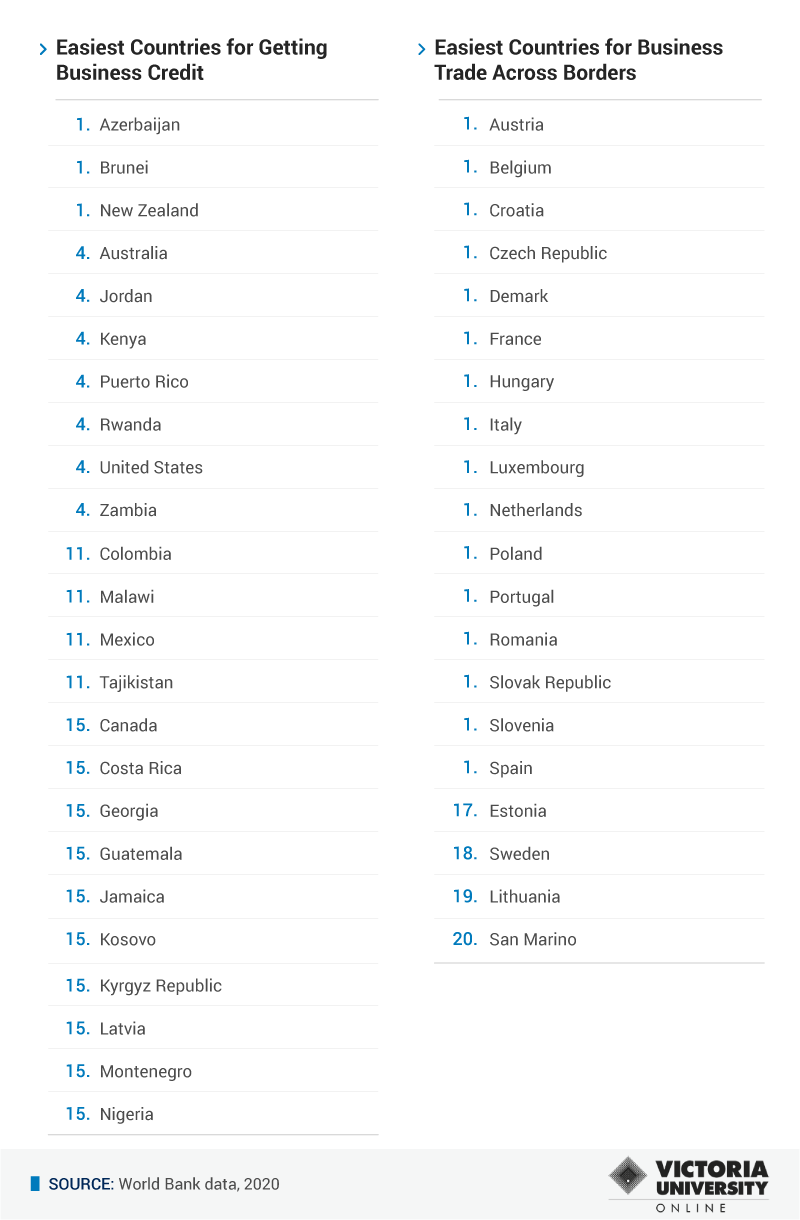 New Zealand, which previously ranked as the overall easiest country for business, also ranked No. 1 for its ability to lend business credit to its entrepreneurs. By comparison, the U.S. and Australia each received a rank of 4 for business lending, while the UK didn't make the list of top 25 in this regard. 
Global Entrepreneurial Spirit
Every country and industry will present its challenges to the entrepreneurial newcomer. Perhaps then, the amount of people that start businesses in spite of these challenges can serve as a reflection of the overall entrepreneurial spirit of the country. The study wraps up with a look at these numbers, and ranks countries by the new business registered in 2018 per 1,000 people, as well as the countries that lost and gained the most businesses since 2013.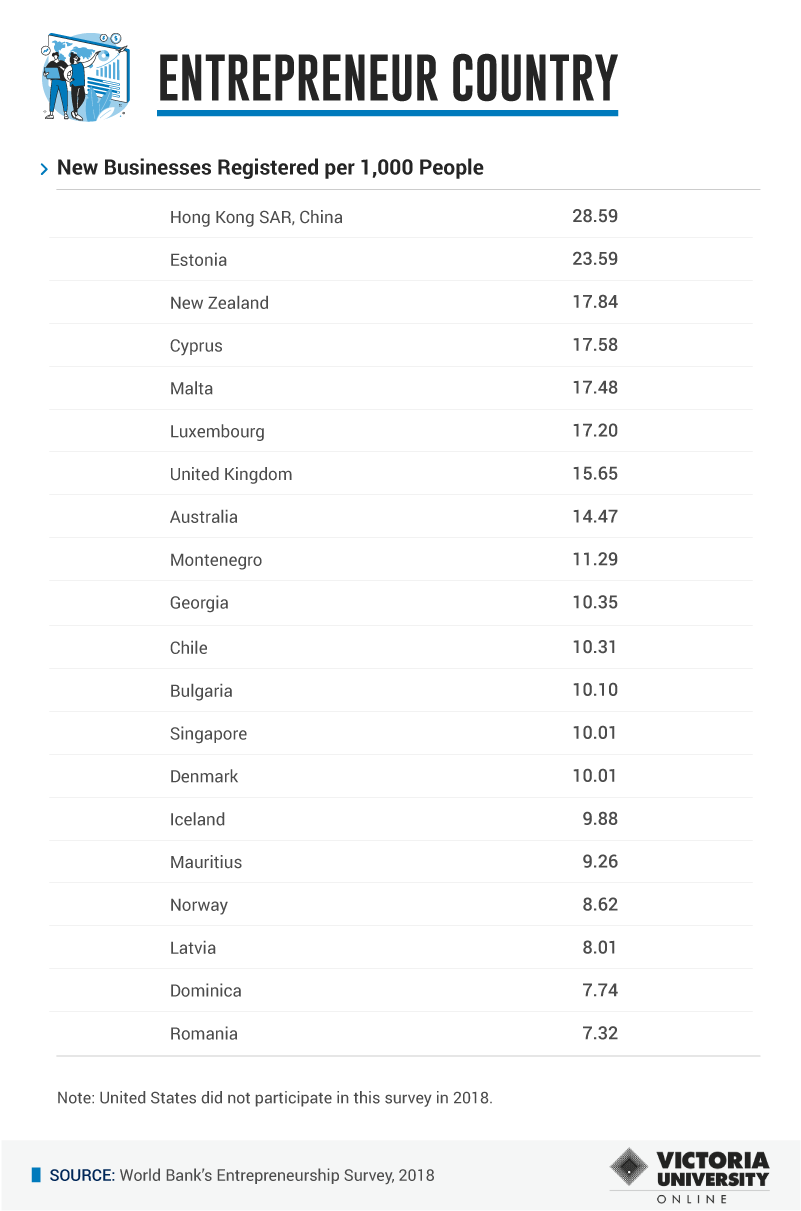 Hong Kong had more new businesses registered per 1,000 residents than any other country. Recall that this country was also within the top five for the speed of creating a startup and percentage of per capita, they are one of the most affordable places to start a business in the world. Hong Kong has also seen a huge increase in the number of startup incubators, accelerators, and co-working spaces, all of which in turn help to increase the number of startups. Moreover, they're also friendly to non-locals starting businesses there. In fact, 34% of the locally based startups last year were founded by foreigners. Once again, the United States did not earn a top spot in this regard, though New Zealand and the UK both did. 
In terms of where countries are heading with new business growth, we analyzed the number of new businesses registered by the World Bank in each country in 2013 and calculated the percentage change in 2018. Over the course of five years, Cote d'Ivoire has been rapidly gaining new businesses due to its relatively high median income, despite political upheaval in 2002, and a rapidly expanding economy. Liechtenstein, a tiny country that sits between Switzerland and Austria, has also seen rapid growth of new businesses in the span of five years, welcoming foreign investment and touting a robust private banking sector. 

Starting to Startup
Starting a new business from scratch is never easy, but data shows that it can be at least relatively easy depending on your location. That said, if you are looking to start a business, the difficulty may be not only specific to your location, but specific to your needs. For instance, if you need to acquire funding or need to get the idea to market in as little time as possible, New Zealand may be your best bet. If you would like to fund the business yourself, however, the UK may be a better place for you. And if you think you would rely on a highly educated workforce, Hong Kong could be just the place. 
No matter which country you reside in or which you choose, education is going to be a key component to your success. To really understand all the ins and outs of financing and running a successful business operation, a masters of business administration and finance could set you above the rest. At Victoria University Online, you can obtain exactly this education from wherever in the world you are or wherever in the world you're thinking of starting a business. If the entrepreneurial spirit is in you, foster it at Victoria University Online. 
Methodology 
We analyzed data from Doingbusiness.org, a research branch of the World Bank that explores various business regulations and measures of 190 different economies around the world. We explored data from 2010 to 2020 in order to explore how the ease of starting a business varies from country to country and how business environments have changed over the years. 
The scoring used for each country comes directly from the World Banks' Doingbusiness.org database. Scores range on a scale from 1 to 100, determined by the World Bank's "ease of doing business" score which considers 41 regulatory indicators. The "ease" score also considers the the number of procedures, time, and, in some cases, capital required across 10 key areas of business: starting a business, obtaining construction permits, electricity and credit, registering property, paying taxes, trading across borders, enforcing contracts, resolving insolvency as well as the regulations surrounding protecting minority investors. Scoring considers country-level regulatory factors. 
Full methodology of the ranking and scoring index can be found here.
Fair Use Statement
Feeling inspired to start a business or help other business owners? If you found the information in this article particularly helpful, you are welcome to share it online. Just be sure your purposes are noncommercial and that you link back to this page.